Early in 2014 I was freshly single.  I wasn't interested in new men, but I was still interested in doing fun things.  So I took myself on a date to eat Indian and go shopping. Then I wrote about it, as writers tend to do, in "Table For One: Why Sometimes It's Better to Date Yourself" which originally appeared on Unwritten. I wrote about the myth of "The Gap": when single, you often feel like there is a huge gap needing to be filled, often by another partner.  I explained that this Gap isn't real.  We are always complete without another person.
Then in May that article went up on The Huffington Post and did well.  Ironically, I had just started dating a great man when it ran.  Even though I was seeing someone, I took with me the lessons learned from dating myself as a single woman: it is important to spend time alone doing what you love.  After all, the only person guaranteed to be with you always is yourself.
Now it's January and I am joyously content in a healthy, loving relationship.  And you know what?  Same story applies.  I am still my own person even though I'm excited to share my life with another.  So I took myself to the theater.  Ticket for one!  A kind woman in my life offered me a single ticket to the fabulous theater in Las Vegas, The Smith Center, to see the musical Joseph and the Amazing Technicolor Dreamcoat.  I heart musicals.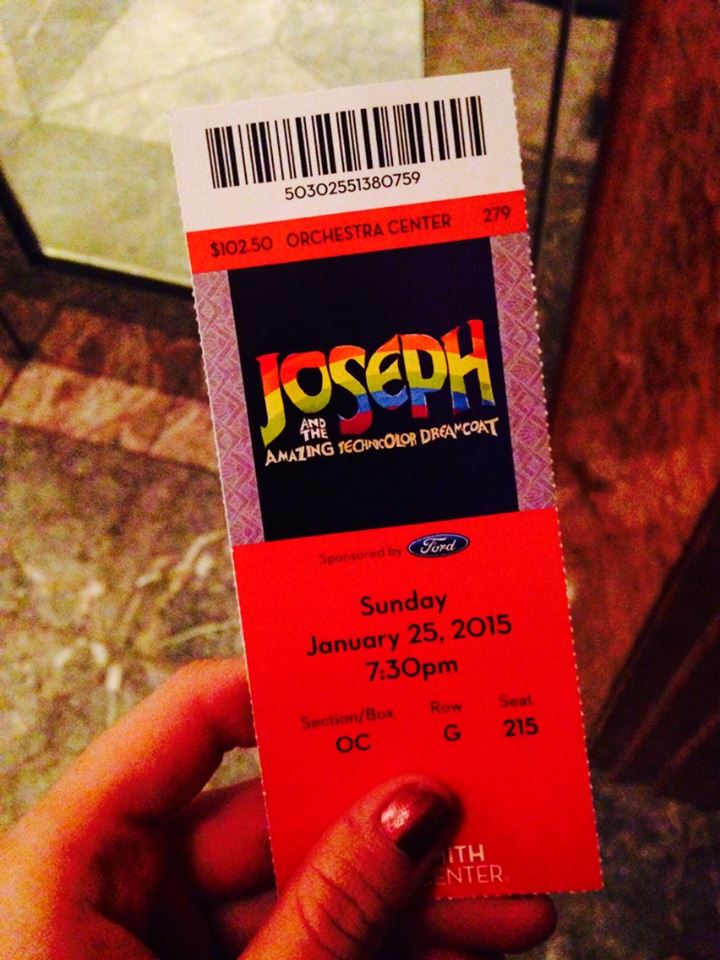 I dressed nicely, arrived early, bought myself a drink and some M&Ms (more of my favorite things!), and enjoyed a night to myself.
It's important not to get lost into somebody else.  I can love fiercely and loyally, share my heart and time, and make room in my life for another.  But I must continue to invest time into myself and love myself.  For me, doing something I love without the boyfriend (and without girlfriends!) is crucial.  I must remind myself that I am already complete – a fact that allows me to WANT somebody else, instead of NEED somebody else. By the way, it's so unfair to expect somebody to complete you.  That's way too big an expectation to put on another human being.
This quote came up on my Instagram recently, and I couldn't agree with its sentiment more.  It beautifully wraps up my thoughts: