Independent, Adj.:
free from outside control; not depending on another's authority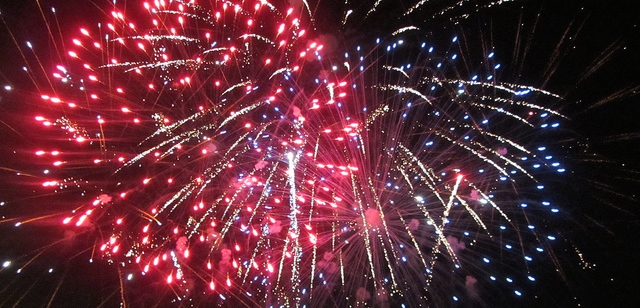 We gather around on the 4th of July with friends old and new, with family born to and chosen, and with strangers who become friends over a beer.  We grill meat and slice watermelon.  We find our red and blue clothing and put them together for only this yearly event.  We laugh and drink and share stories and drink and drink.  We stand outside in the heat and sweat, we dip our toes in the pool to cool off.   We kiss, we dance, we hug.  We drink some more.  We light things on fire.
We do this all to celebrate independence.  The state of being free from outside control, not depending on someone else's authority. The forces around me do not have to control me.  I am independent.
I am independent.  But I am not alone.
Isn't it funny that on the day we celebrate independence, we choose to join together with other human beings?  As a culture, we don't celebrate Independence Day by going into our individual bedrooms and shutting off from humanity.  We gather.  We come together.  We connect.
Maybe a great irony of life is that to be truly independent, we need others.
To be free from the control of a tyrant, we needed an army.  To be free from the grasp of addiction, we need a support group.  To be free from a controlling relationship, we need our friends or family.  To be free from the pain of cancer, divorce, death, job loss, unfulfilled dreams – we need our tribe.  Our people.
To be free…we need to be joined.
Independence is not aloneness.
Independence is the choice to surround yourself with the good ones – ones who understand your crazy, appreciate your innate brilliance or lack thereof, will listen to your drama and hug you and tell you to get the hell out of your ugly situation, encourage you to chase your dreams, and always, always give you chocolate when it all goes to shit.
I am a strong, independent woman.  But I do not achieve this without my people. My family. My friends who have become my family.  My cheerleaders.
So, here is to our independence – our strength that comes from knowing someone is around to catch us when we trip, to hold our hands when we are terrified, to never let us quit unless quitting is the healthiest option, to laugh with us and laugh at us – our independence together.
~~~~~~~~~~~~~~~~~~~~~~~~~~