I hate cold water. Loathe it.  That sudden jolt, dear heaven above! I don't know if I can completely convince you of the depths of this cold water hatred – you'll just have to believe it's an extreme hostility.
Last Monday, my boyfriend and I went with some friends to Lake Mead to go wakesurfing.  And I truly didn't want to get into that cold water.  It's not that I didn't want to get wet or try wakesurfing, I just didn't want to freeze.  And let's be real.  I had never tried any form of balancing sport in my entire life – skiing, surfing, snowboarding – nothing.  I heavily considered allowing my dislike for cold water and my fear of potential failure to get in the way of trying something new. Alas, I could not.  Because:
1. I preach too much about my motto: Feel the fear; do it anyway.  And there's nothing I hate more than those who don't practice what they preach.
2. Women should not be sideline sitters – watching life happen, but not experiencing it for themselves.
I jumped into that freezing water and I tried.  And… I couldn't get up on the board.  I did get lots of water up my nose though!  It was like a Lake Mead Netti Pot going on up in there!  I needed more skill, more time, more practice, more strength… and this quick afternoon trip didn't offer me enough time for any of that.  But I was in that darn water, and my body had grown accustomed to it, and I knew I needed to surf those waves.  I mean, I had already jumped into (the Arctic Ocean) COLD water, I had already failed a few times – I had given it the old Girl Scout try.  And I wasn't going to just give up.
So my boyfriend jumped into the water and together we got up on that board.  And I did it!  I surfed the waves!  With him.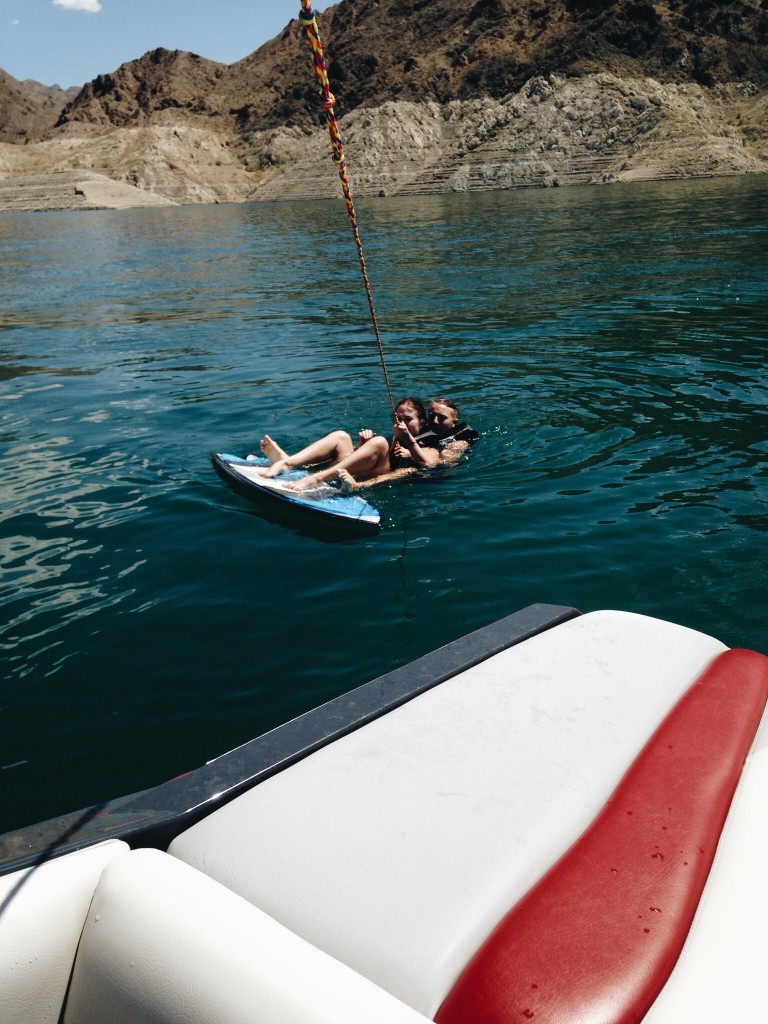 I don't think the fact that we sometimes need to ask for help should ever stop us from not being proud of ourselves.  We all need help with something.  It's ok to do things together; it's ok to ask for help.  It's better to experience something new with help than to miss out on it entirely.  It's ok to let somebody you love and trust jump into the water with you and help you surf the waves. …especially when he's cute… 😉
Despite the fact that I look ridiculous and scream that "I'm falling," eventually we found our groove and went quite a while before dropping into the water.  I was grateful for every second.
(I feel like I must confess… in case you were wondering… which you probably are… the water was in the low 70s.  To me, that's one step above hypothermia.  To others, I'm a wimp.)