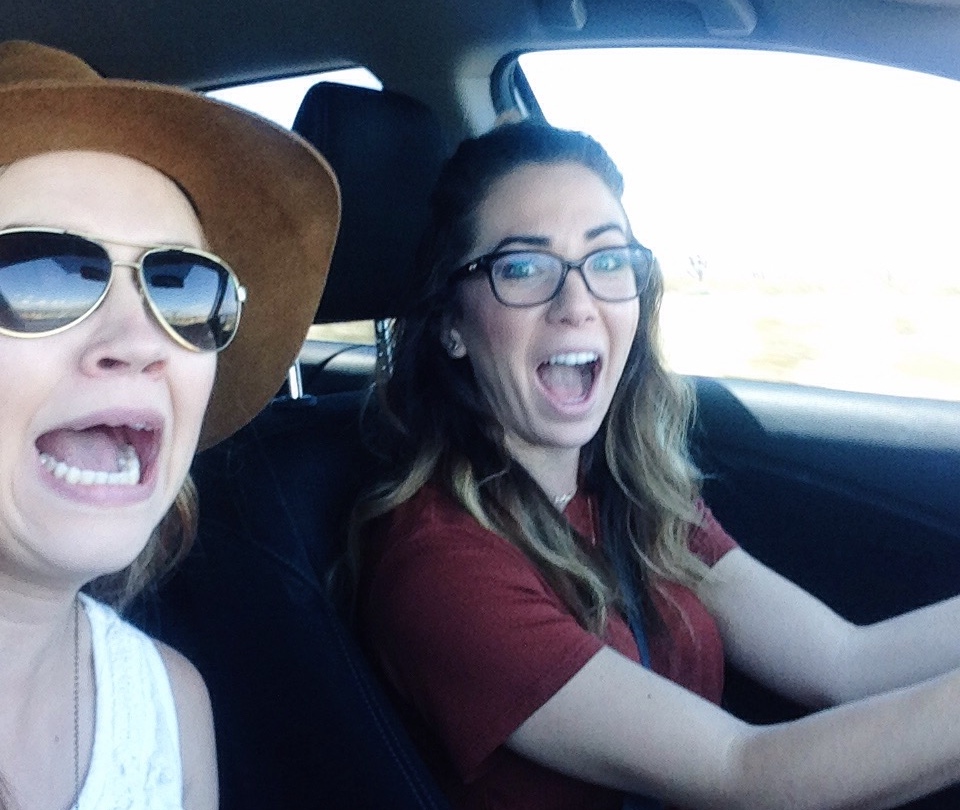 This is me and my friend Bethany. Bethany is an amazing photographer and beloved friend. We went to the Yellow Conference in Cali earlier this year. The road-tripping was just as fun as the conference.
That is until we started running out of gas on our way home.  *see picture*
Apparently when two women get chatting while listening to the lovely Sam Hunt sing to us on the radio, they can sometimes forget that cars need gas. A simple blip in memory that could happen to anybody, really!
We found ourselves in between Baker, California and Primm, Nevada. If anybody has driven this route, you know it's desolate desert of over 50 miles between both spots.  We noticed the lack of gas half way in between each town. 25 miles one way, 25 miles the other way. Bethany's car is fancy with a gas gauge that tells you how far you have on your tank of gas and what gas milage you're getting.
We had about 30 miles of gas left to go.
Either way, we'd cut it close. So we decided to move forward! We had 30 miles of gas and only 25 miles to drive? We'd be FINE, I kept reminding my sweet driver friend. (It's possible I reminded her SO much it sounded more like personal reassurance than a statement of truth. *see picture*)
A few minutes in, we realized the gas tank's "miles to go before you die in the desert" gauge was plummeting MORE QUICKLY than the miles we had actually driven. Before we knew it, we had the SAME number of miles to drive as miles of available gas.
We freaked out, ok. Just picture two 20-something girls in this situation. That, my friends, is exactly what it looked like. We may have been slightly dramatic. *see picture* I was trying to figure out the exact MPH that made us the most gas efficient according to the gauge, so I was screaming, "Go slower!" "No wait! TOO SLOW! Speed up!" "No, slower, we need it slower!" We turned off the music and A/C and saved our water bottle for our inevitable demise.
Then, miraculously, as if God himself decided we both should live long and prosper for another day, we saw an old gas station out in the far distance. If we had decided to turn back instead, we would have never made it. But we were saved. Saved by the rickety old gas station not found on a GPS.
We laughed about it later like, "yeah, we totally knew we'd be fine the whole time."
—
You see, sometimes in our lives, we run out of gas. Not car gas, but emotional stamina.  These are the moments brought on by hardship when our energy and willpower are totally depleted. We're stuck smack dab in the middle of a desert and we don't know whether to turn back or keep moving forward.
All we know is we're hot and dry and screwed.
But let me tell you this: when you run out of gas, you need a person.
If I had been driving home alone that day, the fear and irrational thoughts would have been out of control. I probably would have turned back and gotten stuck in the desert heat with little water. I needed my friend to get through it together.
When we run out of gas in our lives, we need a person in the car with us. We cannot face our own demons, make hard decisions, survive heartbreak, or even make it back to safety completely on our own.   When we are at the end of ourselves, we need somebody to pick us back up. We need somebody shouting crazily "Go faster! Now slower!! FASTER!"
We need a person.  Or a few.
A good friend we can trust and be vulnerable with.  
Don't try to do it alone.  
Be brave and reach out to people.  
Make car-driving friendships that can stand the test of running out of gas.  
The kind of friendships that encourage you to keep moving forward.
Invest in your friendships, search out the good ones.
It's not that we are weak; we just become so much stronger when two or more strong people join forces.
Eventually, you will make your way to your own blessed "gas station," because life is full of highs and lows, goods and bads. Then you will realize you're going to be just fine (which you will be!).
You and your person can look at each other, laugh, and say –
"Yeah, we totally knew we'd be fine the whole time."