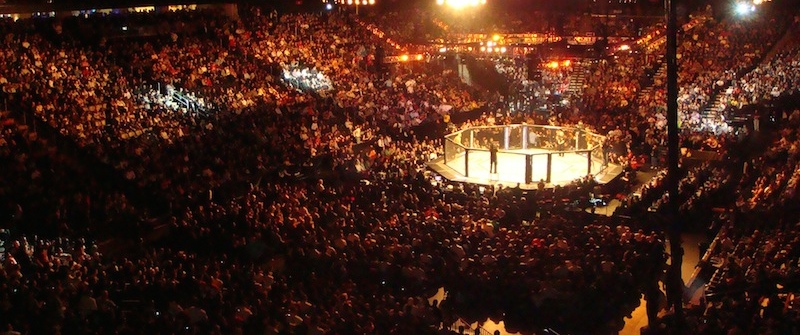 I don't like violence. I'm a liberal-leaning moderate and a pacifist.  And I don't even really like sports.
But I love UFC.  I just do, okay?  There's something about the determined physical preparation, sportsmanship, and mutual acceptance of "we're gonna beat the crap out of each other" that feels entirely different than any form of senseless violence or cruelty.
But you know what I really like? Female UFC fighters.
I watched Saturday night's fight from a local sports bar in Tamarindo, Costa Rica.  The place was packed. As I drank my 5th mojito of the night, I cheered wildly for the final two fights – both done by the ladies.
Yes, WOMEN were the main event on Saturday night.
You see, I looked up at these female UFC fighters and acknowledged that we couldn't be any more different – their bodies are monuments to the fact that physical strength is not monopolized by men, they can throw punches and kick like nobody's business, and they're famous sport stars.
I'm more of a yoga girl.  Sun salutations are my jam.  And I really really don't want to get punched or even do the punching.  I like hugging.
But, we're a lot a like too (I won't be posting any pictures as evidence, because my muscles are nowhere to be found. Doctors tell me I have them, so I just believe them). We are women. Sometimes we cry when we are disappointed; sometimes the tears just flow because we are so happy. Sometimes we do badass things; sometimes we paint our nails.
Mostly – we are each fiercely chasing after the lives we want to live.
And that, right there, is feminism. Feminism is not that all women should be alike; feminism means each and every woman should be able to do whatever the hell she wants.
To some women, that looks like having lots of kids and staying home to raise them.
To some women, that looks like being the CEO of a company.
To some women, that means traveling the world being a freelance writer.
To some women, that looks like being in the main event at a UFC championship.
Like Amy Poehler says, "Good for her, not for me."  We don't have to have the same talent sets of other women in order to be excited for their achievements and victories. We don't need to have the same passions as other women to realize we are all in this together.
You see, women don't do so well when they're put in a box. We are too unique, too complex, too interesting, too talented for that crap.  (Unless, of course, that box is octagon in the UFC.)  But when we not only have the full spectrum of rights and opportunities to do what we want AND the support of others cheering us on, there's no limit.
I grew up in a sports loving family, so I know that the multitudes gather around sports that typically only have men. Saturday college football, Sunday, Monday, and Thursday NFL. Baseball season. Basketball season. Sure, there's women's basketball, golf, and other sports, but women still don't get primetime sports viewership.
But on Saturday night, in a PACKED bar in Tamarindo, Costa Rica, I saw men and women go CRAZY over a UFC fight – fought by female UFC fighters. I got a glimpse into what it must be like to be a little boy with eyes glistening at the sight of a really cool sports hero. I'm 24 and realize my chance at a sports career has always been zilch, but I got to look at these strong, passionate women and say, "Wow – SHE is my sports hero!" – not because we are identical (we aren't at all), but because she is a fellow woman being awesome, doing what she loves, and owning her own individual story.
And that, folks, is why this feminist loves female UFC fighters.