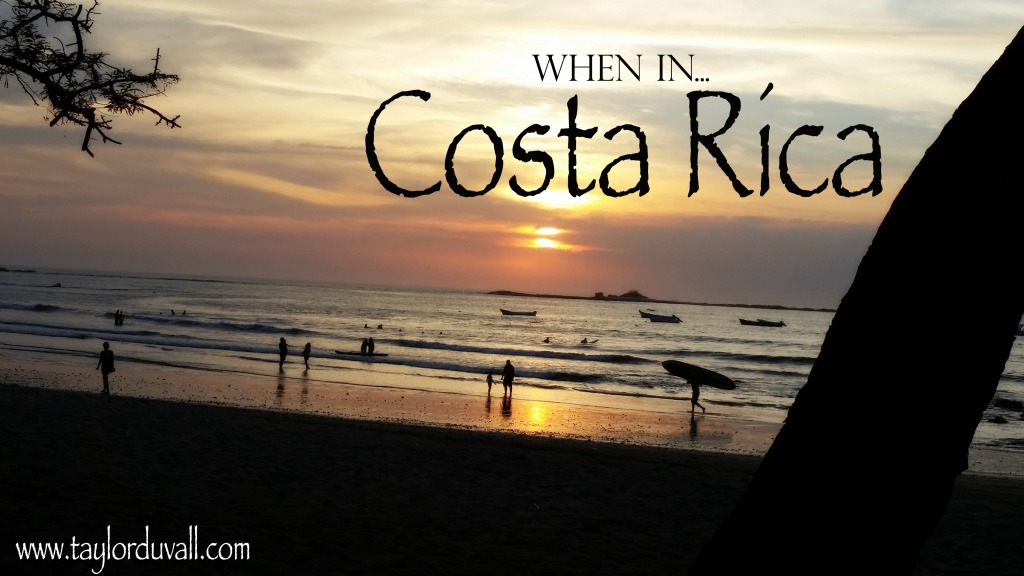 Pura Vida: The phrase of the Ticos and Ticas, locals of the beautiful Costa Rica.  It means Pure Life and embodies their optimism and joy for life, no matter the situation you find yourself in.  Life in Costa Rica is lived at a slower pace, which allows for soaking up sunshine and pleasure.  No stress, just happiness.
Costa Ricans are some of the kindest, happiest, and friendliest people I've met.  Pura Vida isn't just a greeting or wishful thinking, it's a way of life – one that made it easy for my boyfriend and I to melt right into this little country for nine blissful days.  That doesn't mean everything went right, because almost everything went wrong.  (Including a good introduction to the Costa Rican medical system).  But the Pura Vida vibes prevailed.  It was a glorious travel experience!
Friday ~ "The Travel Day from Hell"
Traveling to Costa Rica was… how should I put this?… Exciting?  I spent my entire red eye flight throwing up.  Forsaking the public humiliation of using an airsickness bag, I incredibly made it to the bathroom each time – despite a stewardess refusing to let me puke in Business Class when the 'peasant section' was blocked by a medical emergency. Because poor little girls need to puke where the poor folk sit.
I always suggest to never over-plan a trip.  The fun is in the adventure, and nothing ever happens the way you think it will anyway.  But after Costa Rica Day 1, may I also suggest you never under-plan!  Because if you bank on having easy access Wi-Fi to get you from the San Jose airport to Tamarindo Beach, you may be disappointed.  Also, Costa Rica doesn't have addresses.  So it's: "7 blocks left, 3 blocks up, 10 blocks to your right, and you can't miss it."  You'd be surprised just how much I CAN miss it.  We wandered San Jose in the blazing heat for hours.
The person who managed to get us to our bus station was a taxi driver who didn't speak a syllable of English.  We played charades.  Costa Rica has excellent, cheap public bus transportation.  10 bucks for a 6 1/2 hour, air-conditioned bus ride.  Did I mention the bus ride was 6 1/2 hours?  We didn't know that either because we never bothered to check.  Life on the edge, folks, life on the edge!
But Pura Vida, right?!  Despite the rocky beginnings, we grabbed a drink and checked into our fabulous hotel… after over 24 hours of stressful travel.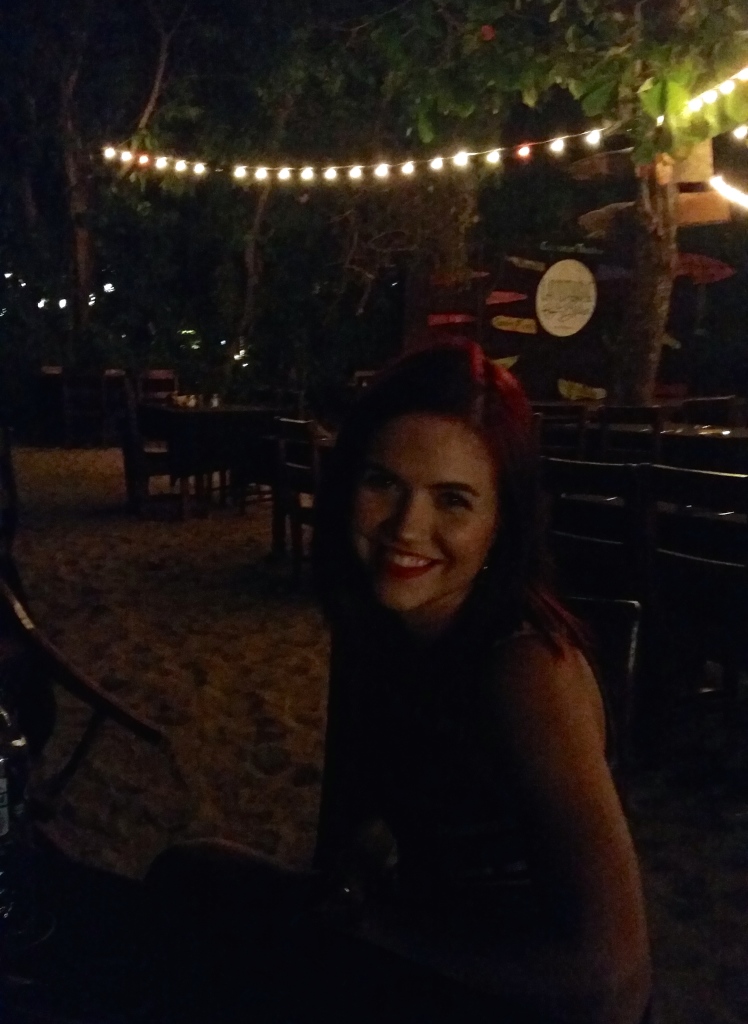 Saturday ~ "Casa Monacita"
In Tamarindo (beach town on the Pacific side), we stayed at the lovely Casa Monacita.  This beautiful home turned hotel looks out over the Pacific Ocean.  The room had everything we needed and was perfectly clean.  There are plenty of outdoor chairs to lounge in, a pool for a quick dip, and as many beautiful views as you could ever wish for.  I happened to stumble upon Casa Monacita on VBRO.  We booked last minute (the theme of our travel, apparently).  It was fate.
Casa Monacita is a 5/10 minute walk from the beach.  It is on a hill, but we loved that!  Being elevated provided better views and good exercise to keep off extra vacation pounds.  As a bonus, the house's manager was above-and-beyond fabulous and informed us on all the best things to do and kept our vacation excellent the entire time.  We joked the throughout the trip that she makes "dreams come true."  Because it's true.
We spent our Saturday on Tamarindo Beach at the El Be Club, a wonderful beachside lounge/restaurant with lounge chairs, swings, hammocks and beds for relaxing pleasure. Plenty of sun and shade.  Plus staff is always walking around, which made it a bit safer to leave belongings while we jumped into the waves. The sunset at the El Be Club was breathtaking, and there was live music providing the perfect soundtrack.  Costa Rican sunsets are special.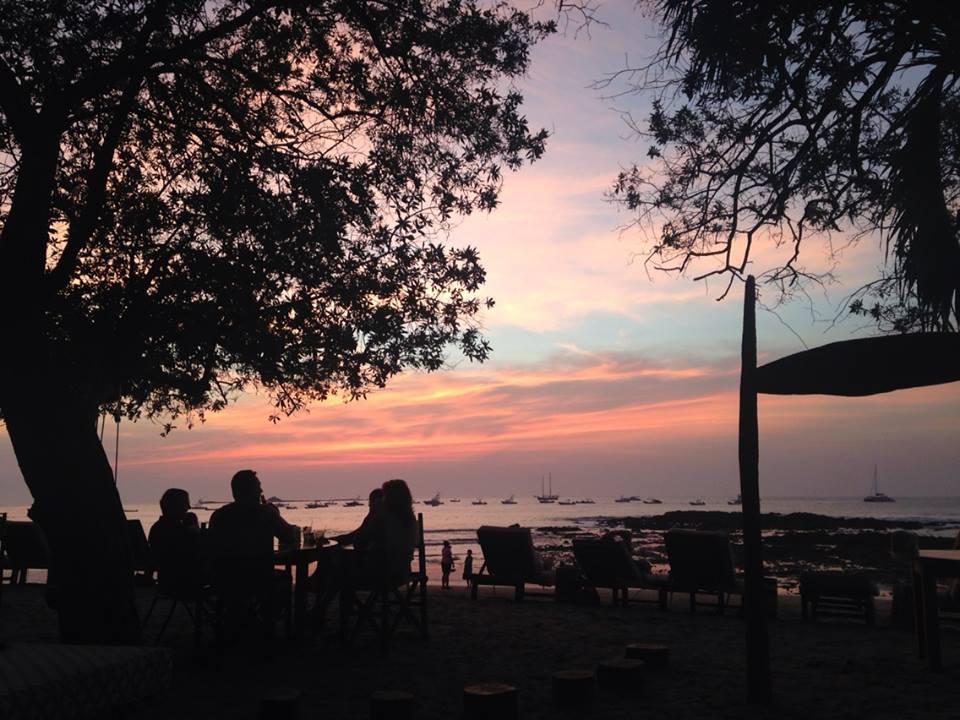 Sunday ~ "Nothing Ever Goes as Planned"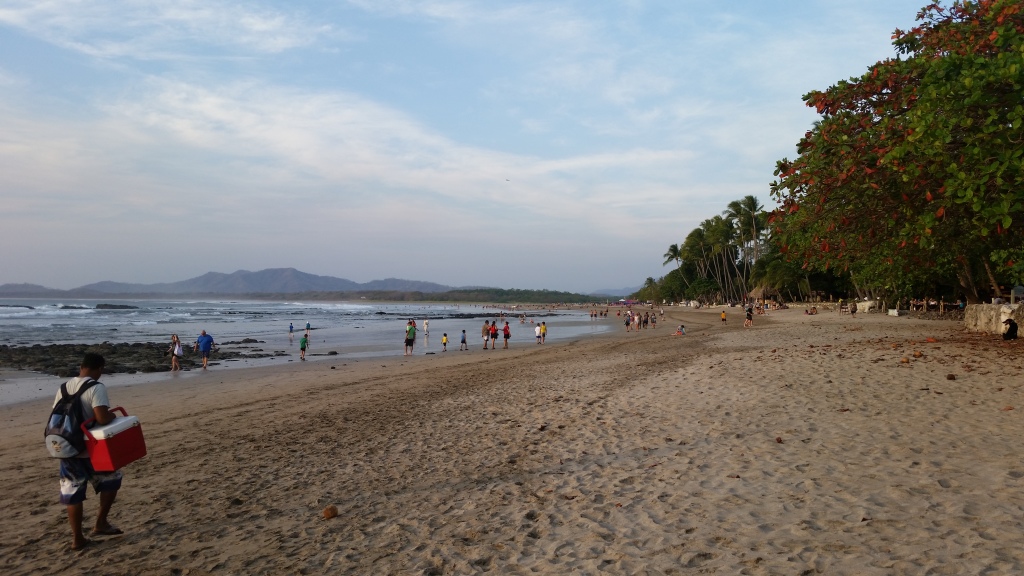 We were planning on visiting Playa Avallanas on Sunday, but the shuttle was broken.  We decided it was a perfect day to explore Tamarindo Beach.  We walked to the edge of the beach right as the tide was going out.
While there, a Tico (local) decided to head out into an intense tide.  I kept asking my boyfriend "Is he ok?"  Then we heard him scream for help.  My boyfriend threw me his backpack and ran in after him.  I had these horrendous visions of the tide taking him in too, or the drowning man freaking out and using my boyfriend as a floatation device.
Fortunately, my boyfriend had the foresight to turn around and find people with surf boards.  He sprinted back to the beach, gathered a small group of men, and together they brought the man back to the sand.  They said he was probably less than 30 seconds away from drowning as he was already gulping water.  It was terrifying.
We finished up Sunday at Nogui's, a beautiful beachside restaurant, and watched the sunset.  The sand fleas decided to come out and eat me.  I had sexy bug bites on my feet, ankles and legs the rest of the trip.  But, Pura Vida!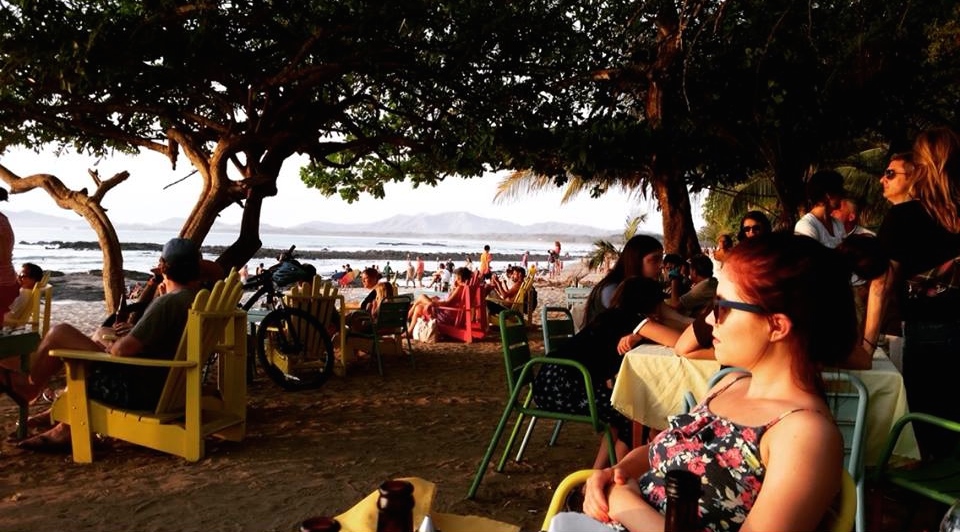 Monday ~ "On a Boat"
The manager of Casa Monacita recommended we take a Marlin Del Rey sunset catamaran tour that included snorkeling, lunch and an open bar.  Sign us up!  We left the beach at 1:15. The catamaran went out for an hour while we all drank, then docked so we could swim/snorkel for an hour or so.  They provided a bunch of pool noodles, which were so much fun to bring into the ocean.  When we got back on the boat, they had a delicious chicken lunch prepared and more drinks, of course!  Costa Rican sunsets are even more fabulous from a boat.  (Being quite tipsy also made it that much more magical.)