I love a good mojito on the beach, a cold cider with Gluten Free pizza, or a glass of wine in the evenings. Alcohol is good. But as we know, alcohol is only good in moderation. So is the word should. You know the "should"s!  People tell you what you "should" do all the time; it's one of society's favorite pastimes.
You should have a skinnier body.
You should cook and clean more for your man.
You should call your great aunt more.
You should have this sort of job.
You should be more practical.
The problem with the word should is that it's often based on a reality that is not your own; should is often a projection of how other people live their lives (or, perhaps, WANT to live their lives.) But all these "should"s aren't always real for you. And they aren't always healthy or wise.
In my life, people say I should go to church to be true Christian. This is not a healthy or desirous option for me right now. It may be a perfect option for you, and that's so great! It's not a "should" I have chosen. Society also has many little "should"s for relationships: how women and men should act. A lot of those "should"s don't work in my life. They might work in yours, and that is so great! Being the domestic half of a relationship is not a "should" I have chosen.
But, like a glass of wine before bedtime, sometimes the "should"s have a place. It's a matter of discretion. Sometimes, I choose a "should" for my life.  I make the agreement with myself that it is a wise choice, and then I put boundaries around it.  Like choosing to drink one night and also choosing to let somebody else drive you home.
For example, I should show love, kindness, and compassion. I make that agreement with myself, then I set up my boundary: I can't turn into a doormat. Society will put lots of picky "should"s around love. Religious dogma can, at times, put even more.  But love can't mean: "I should take care of you so well to the point of losing myself in the process."   That's codependency talking. Maybe nobody puts it better than Stephen Chobsky in Perks of Being a Wallflower: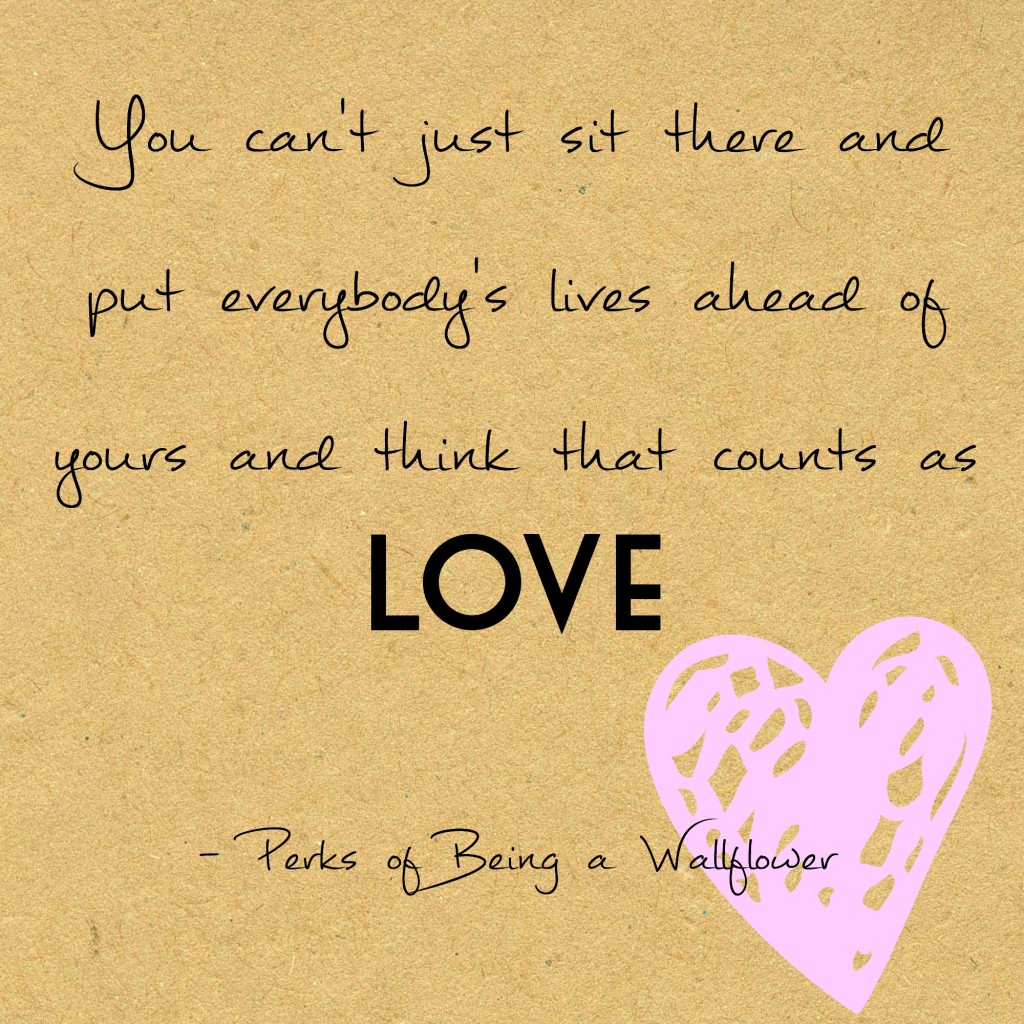 Another one: I should take care of my one and only body.  True.  Here's the boundary: I can't starve myself or only eat kale. (Remember I like a good mojito on the beach…) Get the picture? The word "should," like alcohol, is best used in wise moderation. And we MUST be the owners and managers of the word should in our own lives.  Not other people.
Unfortunately, society will often tell us that our worth is found in the "should"s.  When we do all the "should" s, we receive praise. Of course society does this; it's an easy ranking system.  But it's messed up.  If I lived by everybody's "should"s, or if I lived by all the unrealistic "should"s that I've internalized – I would never have time to live MY life. It would all be about living a distorted view of how my life "should" be.
When is the word should appropriate?  We each have to explore that and decide on our own.  I don't think there will be many occasions.  And they won't be black and white.  And NONE of our "should"s should be based in fear.  All those can go away.
Neither liver disease nor a miserably fake life based on "should"s belong in our lives.
*** What "should"s do you want in your life?  What "should"s have you been holding on to that were never meant for you?  What "should"s have you already let go of? Leave a comment and let me know! ***