As a writer and a reader, I am always so drawn to beautiful words.  When I found Ashley's blog through Twitter, I knew she had to be featured here on The Millennial Salon.  I hadn't anticipated how much her piece would move me.  Not only does she honor writers, she does so sublimely.  Ashely describes writers as "quietly bold."  I couldn't find a better description.  Everyone should read these words – Any writer MUST read these words.  I am proud to show this piece on my blog today.  Please do yourself a favor and check out Ashley's blog after you read her "Wordsmiths: Architects, Imaginers, Historians" ~Taylor
~~~~~~~~~~~~~~~~~~~~~~~~~~~~~~~~~~~~~~~~~~~~~~~~~~~~~~~~~~~~~~~~~~~~~~~~~~~~~~~~~~~~~
Wordsmiths: Architects, Imaginers, Historians
The thing about writing is that it feels both tangible and elusive to the individual behind the words. We pick through the letters, pluck the ones we choose, and place them in an orderly fashion across the page, the screen, the scrap of notebook paper. In doing so, it feels personal in the way that we view these words. They speak to us as we utilize them to speak to others. We build connections, convey emotions for those who cannot, and continue in this way even through the doubt, the worry, and the apathy.
Being a writer is about being quietly bold, about sitting behind the scenes and yet allowing our words to shout for understanding. We wish to be heard, and we sometimes are to our own surprise. Other times, we write even when no one is reading. The writer is a devotee to the script, an individual who will continue stringing together concepts and letters and sentences even in the silence. There is no other option, for without the writers of this world, messages and meaning and art would be lost.
For some, this may not be such a big deal, but imagine a world without your superhero movies (someone wrote them into existence), your Harry Potter marathons, your popcorn filled nights of vanishing into another dimension. Someone created all of it for your enjoyment, and perhaps you are more of a movie person, but those movies were written before they were acted and directed. Some of them are even based off books, off poems, off short stories. Without the writers of the world, where would you be then?
We create not just as an egotistical way to lay out our perceptions but also because inside of our minds live creatures and people and universes. They clamber up the sides of our brains, banging on the walls, squeezing their way out and paving pathways, evolving from being specters to becoming concrete. The characters with which you identify or loathe or question were written to evoke something from you, and in doing so, conversations are formed and associations built. Without writers writing from their imaginations, from their thoughts, from their experiences, our world would become still – hushed and voiceless. This quiet act of putting words down into something long-lasting has been going on for ages. It is what aids us in sharing our lives with friends and families, for it is communication exemplified. From Homer to Shakespeare to Emerson and Thoreau, there have been people writing so that later generations can take a peek into the past and attempt at understanding our present and develop a future.
To those who say they do not enjoy books or reading, I have always begged to differ. You may not enjoy the feel of the pages between your fingers as your eyes skim the words, devoting time to what has been written, but you perhaps enjoy the byproduct without realizing it. Writers are architects of creation, valiantly molding imagination into reality. History speaks because writers gave it a voice. There is so much to be learned about people, about life, about what it means to exist within violence and indifference and compassion. The quiet beings who are observing are also writing things down. How would you wish to be portrayed? When the future looks back at what we have done here, will we face them with heavy hearts or proud smiles?
Writers and journalists and novelists and playwrights are part of this vast humanity, aiding us in becoming permanent instead of forgotten as dust. It is the perfect balance, a perpetual and abstract presence for wordsmiths – writing as the years accumulate, our physical being fading with age and yet in a more profound way, creating in order for us all to be everlasting.
~~~~~~~~~~~~~~~~~~~~~~~~~~~~~~~~~~~~~~~~~~~~~~~~~~~~~~~~~~~~~~~~~~~~~~~~~~~~~~~~~~~~~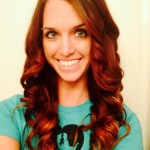 Ashley is a writer and wannabe editor from South Carolina. She is a language and literature enthusiast as well as an activist to end violence against women. Her blog (chaosandwords.com) caters to the creative side of her brain, and she can also be found on twitter at @chaosandwords.