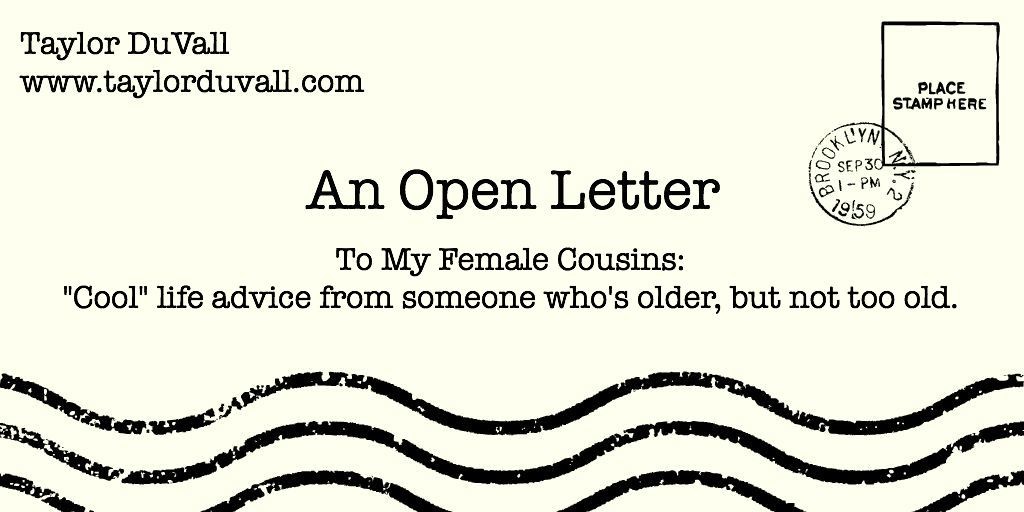 Lovely young ladies,
I'm older than you.  But I'm not too old.  Old enough to know a few things, young enough for you to still think I'm cool (you do think I'm cool, right?  Say yes).  So let me tell you a few important things about life:
Mirrors are made of liquid metal and glass.  That's it.  Don't give them any power. Sometimes I look in the mirror and think "Oh no, I look fat!" or "Why can't my hair look like her hair?" or "Damn you, large pimple!" But that's giving the mirror way too much credit. The mirror can't see that I'm really funny or smart or kind. Don't let a mirror convince you that you're not amazing, because you totally are.
Boys must be good. Boys are weird, but you probably already know that because you each have brothers and fathers, and I personally know they're weird. But they're also pretty amazing, right? I know your dads and brothers love you like precious treasures. Not every boy will love you like that. Don't give those boys the time of day! If they make you feel small or stupid or worthless, they are not allowed in your life.
Be brave. Life takes guts. You're gonna need to put on some courage each day. Being brave doesn't mean you can't show your emotions or have bad days or get scared. Being brave means doing the right thing even when you have a bad day or you are scared. Many people will tell you to be hard and toughen up, I think you should stay soft and lovely and open-hearted. But do all of these things while being brave.   Stand up for what's right, stand up for yourself, and do it with kindness.  Always.
Learn how to say NO. If somebody asks you to do something that makes you feel uncomfortable, say "no." If somebody pressures you to do something that will not serve you, say "no." If a guy wants you to do things that you don't want to do, say "no." If a girlfriend encourages you to be mean to somebody else in order to be cool, say "no." You are a strong human being, and you have the right to say NO!
Do what you love. Be the type of person who does awesome things. Don't turn down opportunities to do the things you love, and never feel like the things you love to do are stupid. You only get one life, and I know it feels like you have SO MUCH TIME. And, in a way, you do. But in another way, it goes by so quickly. Don't waste that time.  Fill up your days with things that make you smile on your face and in your heart.
Interesting is better than cool; in fact, interesting is the real cool.  When I was a teenager, I thought being like everybody else was cool. Listening to the music everyone liked, dressing how everyone else dressed, buying things just because other people buy those things. I wanted to be cool. But if everyone else is doing it, it's really not all that interesting, is it? It's the same ol' story. Be an original instead of a copy.
No matter what, I love you. You are going to screw up.  You are going to fail.   You'll probably fall in love with somebody who is all wrong for you. You'll say rude things you don't mean, and you'll say rude things you do mean.  You're a person, and nobody can do it perfectly. But you will always have a friend in me. I will always love you no matter what.  Luckily for all of us, we have a family that will always love us too. Not everybody else has family like that. So be that same source of love for other people.
With hugs and love,
Your big cousin xo
---
An Open Letter is part of a series to share positive, uplifting letters to the people of this world.  Open letters on blogs have a reputation for being biting and judgmental.  An Open Letter strives to bring hope and life and kindness back to the art of writing letters.
An Open Letter to My Little Brother on His 19th Birthday