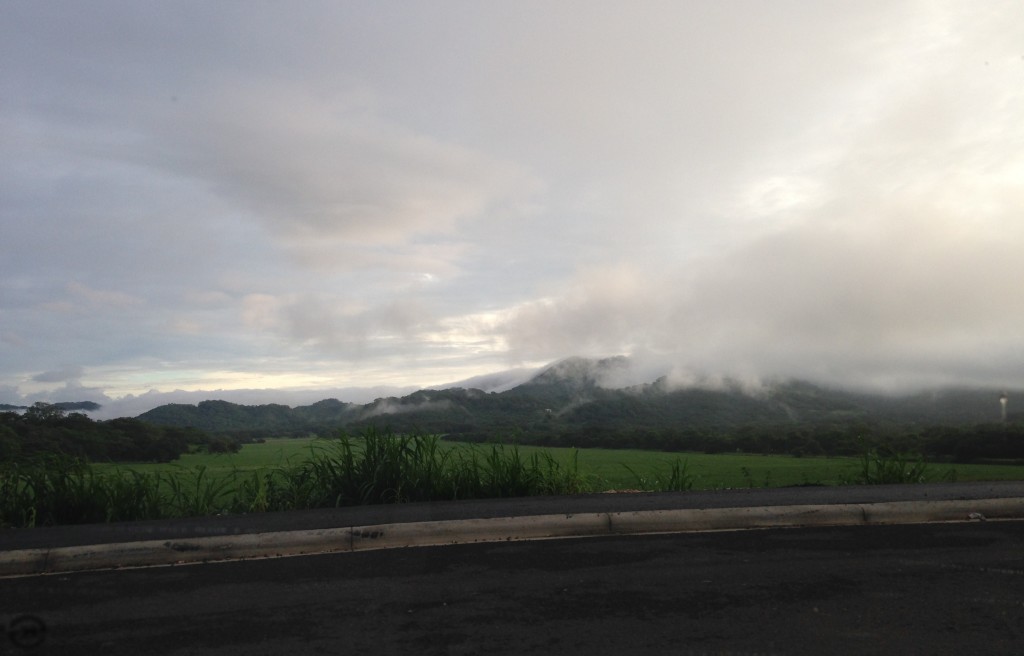 As many of you know, The Boyfriend is an incredible oil painter. (SEE HIS WORK HERE.  AND HIS INSTAGRAM HERE). When we began our packing process for Costa Rica, we thought it would be easier to pack and ship his paints than it would be to find a place for them in our already-stuffed suitcases.
Silly us.
Long story short: a few days in and his paints hadn't arrived.  A few more days turned into a couple weeks and a VERY bored boyfriend. Finally we discovered they were held up in Customs in an industrialized city called Puntarenas, 3 hours away from Tamarindo.
We made a little road trip out of rescuing the artist's paint!
With a cheap rental car waiting for us, we woke up at 5 AM worried that something horrible would happen causing us to miss our rental car return at 5 PM.  Groggy and grumpy, we set out for our first Costa Rican road trip.
If you haven't driven in Costa Rica, well, you haven't really driven.  It's organized chaos. Heavy on the chaos.  Rules are more like guidelines.  Even the largest shipping trucks will pass a slow car by going into oncoming traffic and coming back in the nick of time.  Dogs and pedestrians and bulls and bicyclists all coming and going.  Frankly, sometimes driving in Costa Rica kinda reminds me of this:
And yet it manages to look like this: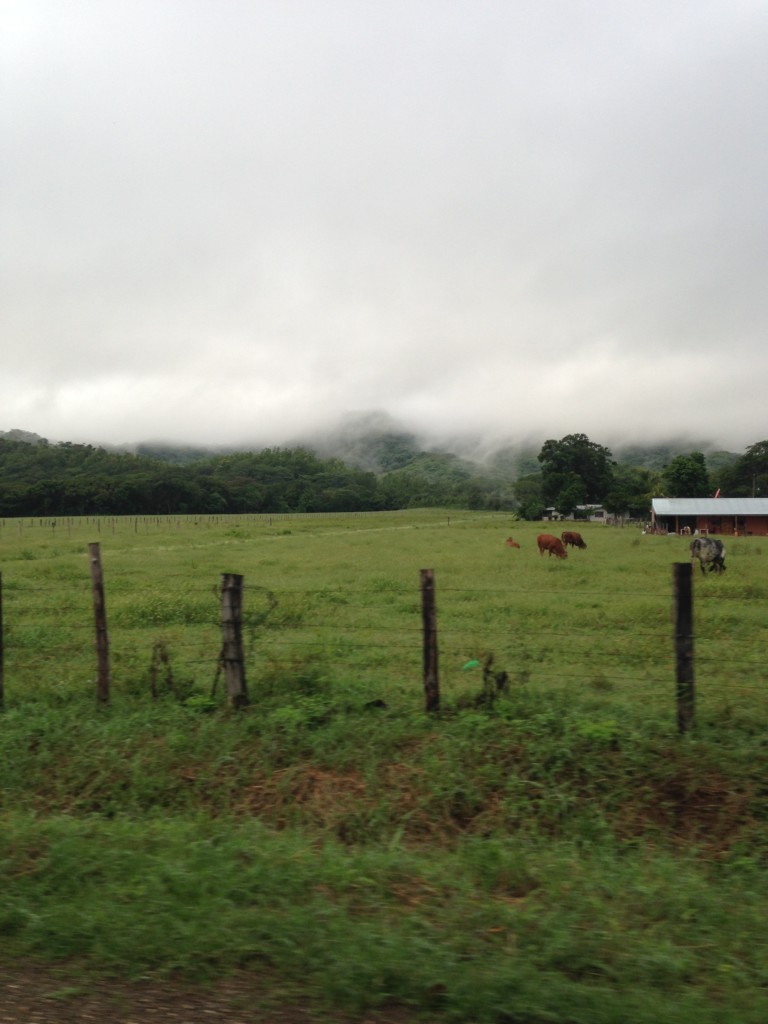 The sky was cloudy and grey, the perfect juxtaposition to the bright greens that surrounded us.  I've taken road trips in the East Coast; there is a lot of green there too.  But Costa Rican greens are various and special, you've never seen so many different greens.
We arrived to Customs with no hitch thanks to the $10 wi-fi box that kept our GPS going strong. Now, I assumed nobody would speak English.  But when I assume nobody speaks English, it's an incredibly half-hearted assumption.  Like "You don't 'speak' English, but you probably magically understand me, right?"
Despite the fact that I hated every second of every class of my college Spanish 1&2, I was blessing those lessons when it came time to explain to the employees of Customs that The Boyfriend's paint supplies were not dangerous explosive materials that we were smuggling into the country.  Google Translator saved the day and convinced the kind gentleman that they were indeed the tools of an artist.
(NOTE: I will NEVER ever ever be annoyed by somebody in America who cannot speak English.  I promise.  There is so much anxiety, frustration, and even embarrassment that comes along with being unable to adequately speak a language.  You bet your ass I'll keep "Pressing 1 for English" if it makes it easier for a Spanish speaker.  It's freaking hard!)

After all was well, Customs sent us to the bank to pay taxes on the package.  A whole 15 cents.  They gave us The Boyfriend's paint.  But really they gave us our sanity.  My go-go-go boyfriend had his job back!
We had a lovely drive back and stopped by a soda (an outdoor cafe/restaurant that serves authentic, "typical" food) and each had a plate of Gallo Pinto.   We drove back in the rain.  I slept some.  We listened to Spanish songs on the radio to practice our Spanish.  Then, suddenly, Whitney Houston came on which made total sense.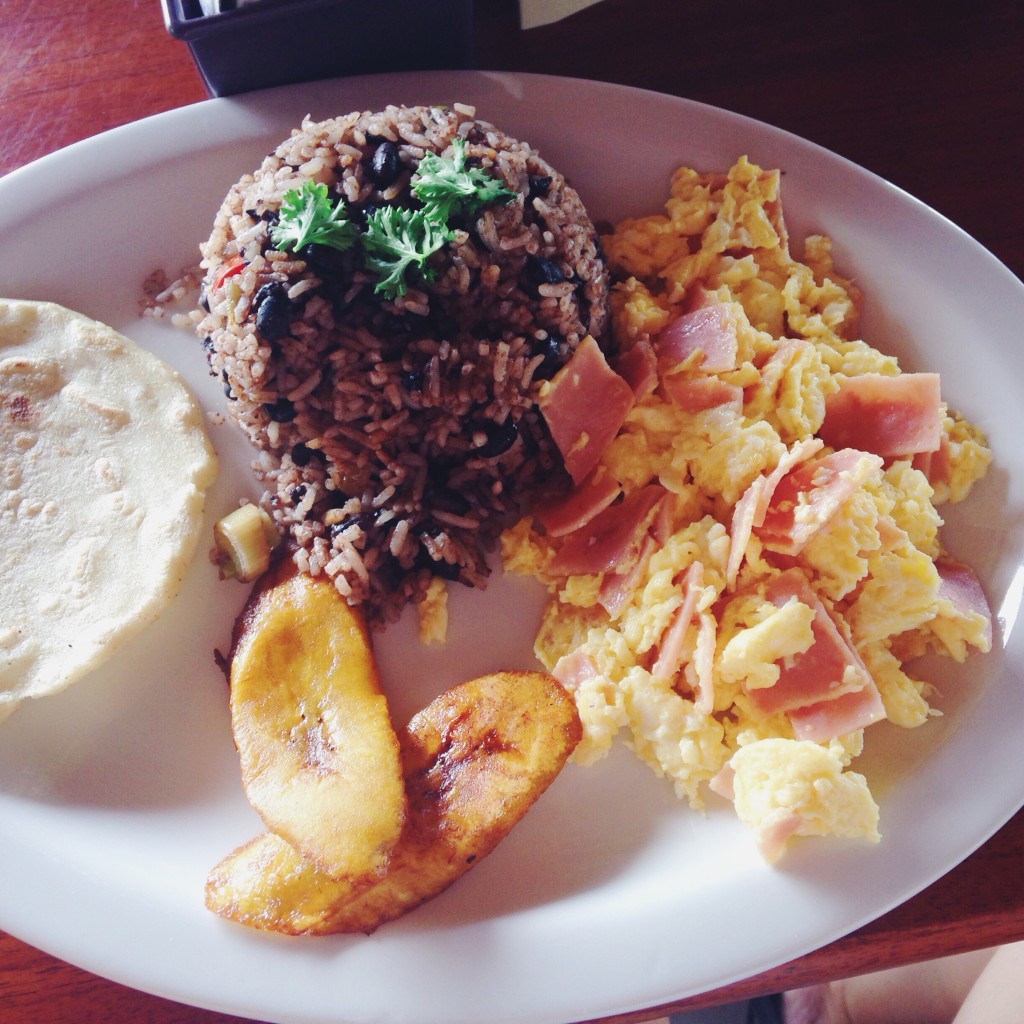 A small Mamon Chino (a weird-looking, delicious, small red fruit that appears to have plastic strands coming out of it!) stand stood on the side of the road.  Three little girls were anxious to serve The Boyfriend our road trip snack while their smiling mother smiled and watched.
We made it home with enough time to veg out to When Harry Met Sally before returning the rental car.  Success.