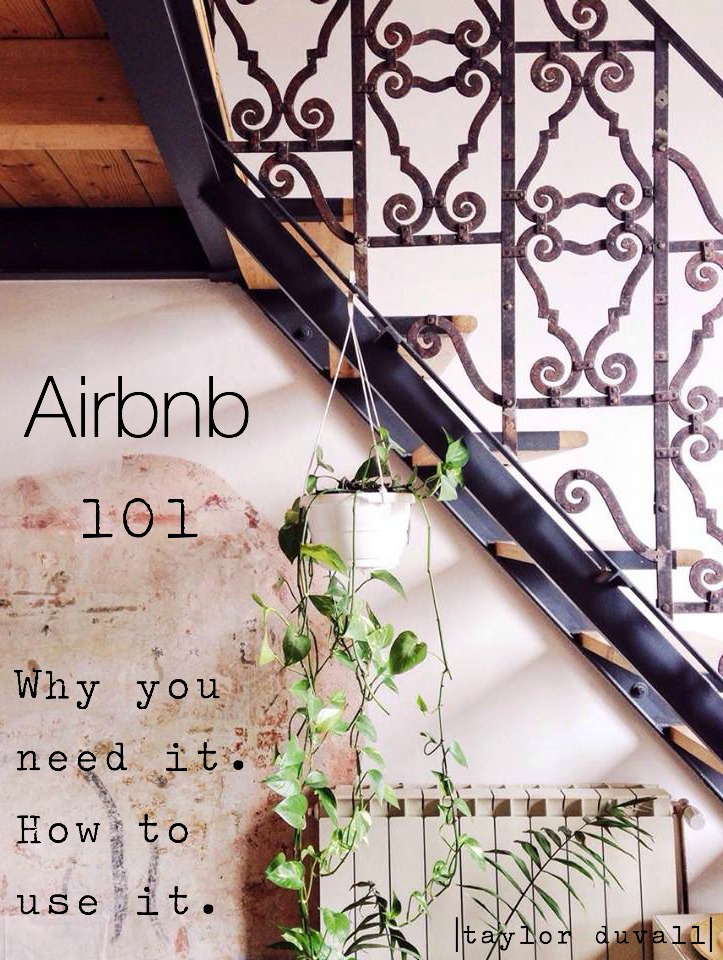 Once upon a time, you vacationed in hotels. You were clearly a tourist as the bellhop took your luggage to your lodging room amongst 100 other similar rooms
Today, you get to "experience a place like you live there." Or at least that's what Airbnb says you get to do when you use their service. I happen to agree! As a digital nomad who works from different places across the U.S. and the world, Airbnb has become my beloved real estate agent.
Airbnb is changing the way the world travels, and I think you need to hop on board. Here's my Airbnb 101!
Why You Need Airbnb
If you want to travel the world (or even just travel your country), why would you want to stay in one hotel after another? With minor variations (and sometimes cleanliness variations), once you've seen a hotel… well… you've seen them all.
Airbnb is different.
Airbnb has listings of unique neighborhood apartments and homes in over 190 countries owned by regular people – just like you and me. You get to have a true experience as a local instead of a passerby's glance. It's more comfortable, more accommodating, more authentic… and don't forget, cheaper.
1. Savings
If you are going to be a frequent traveller, racking up hotel costs is the easiest way to blow through your money on a bed you are probably only going to see at night. Why not stay in a comfortable apartment or home and avoid all the heightened costs of staying at a hotel chain?
If you're a digital nomad like me, you need the cost of an apartment abroad to not exceed what you would pay in your hometown. Since most of the listings offer considerable weekly and monthly discounts, living somewhere becomes feasible.
Sure, Airbnb also offers luxury homes and apartments in ideal locations. These will cost much more. But you will find endless affordable options as well. For example, we are staying in a wonderful location in Naples this week for only $50 a night.
For those who wan't to save even more – you can choose to rent a private room in somebody's home. That's not our cup of tea. We like apartments to ourselves, but the option does exist.
2. Experience
Staying in unique spots along your travels with local architecture and decor trends is part of an overall experience. Don't just vacation somewhere, live there – experience the culture – immerse yourself.
Unless you choose to only rent an individual room, your stay comes with a kitchen, a full bathroom (or multiple), and sometimes even a balcony or backyard. You get the tea kettle or the ironing board. Your experience feels more home-y and comfortable. In a sense, the uniqueness appeals to the adventurers and the homey-feel appeals to homebodies. Everyone wins.
Plus, the hosts are typically ready to offer personalized suggests on what to do or where to eat.
3. Ease
Instead of researching hotels and going from website to website to price them, Airbnb is a one stop shop. Put in your dates, location, specifications, and you will conveniently see all your options in both list and map format.
Airbnb will handle all the money exchange, which is both a safety feature and an offer of ease. Plus, Airbnb will automatically reconfigure the costs to your currency preference, so you don't have to do the math. (Example: Host charges __ in Euros, but Airbnb will only show you __ in Dollars.)
Each host will have clear cancellation policies when you book. Some are flexible, some are strict. But you get to decide which works for you.
What About Safety?
The #1 question I had when I first heard of Airbnb was: is this even safe? I'm sure you're wondering the same thing.
Airbnb has double layer of protection. Guests review hosts and hosts review guests. This way you can monitor the previous reviews and see if others had a good experience. It also protects hosts from inviting less-than-friendly guests into their space.
Kyle and I have chosen to never stay in an Airbnb that does not have at least 2 reviews for this reason. Sure, we may miss out on a perfectly safe and wonderful spot, but we get to arrive in confidence everywhere we go.
To learn more, watch this short video on Airbnb safety:
How To Use Airbnb
It couldn't be easier!
1. Make An Account
Visit the Airbnb website HERE and make a simple account. You will need to include information like: phone number, email address, preferred currency, and your credit card.
2. Search
The search system is easy. You can start with their simple search on the home page: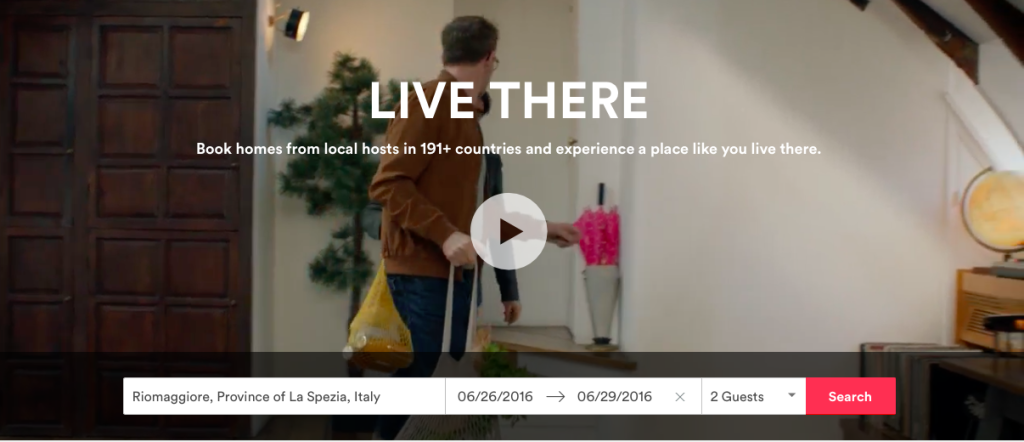 Or you can do a more complex search on their results screen. This includes filters. One filter I often use is "Internet." There's no point in staying somewhere where I can't do my work.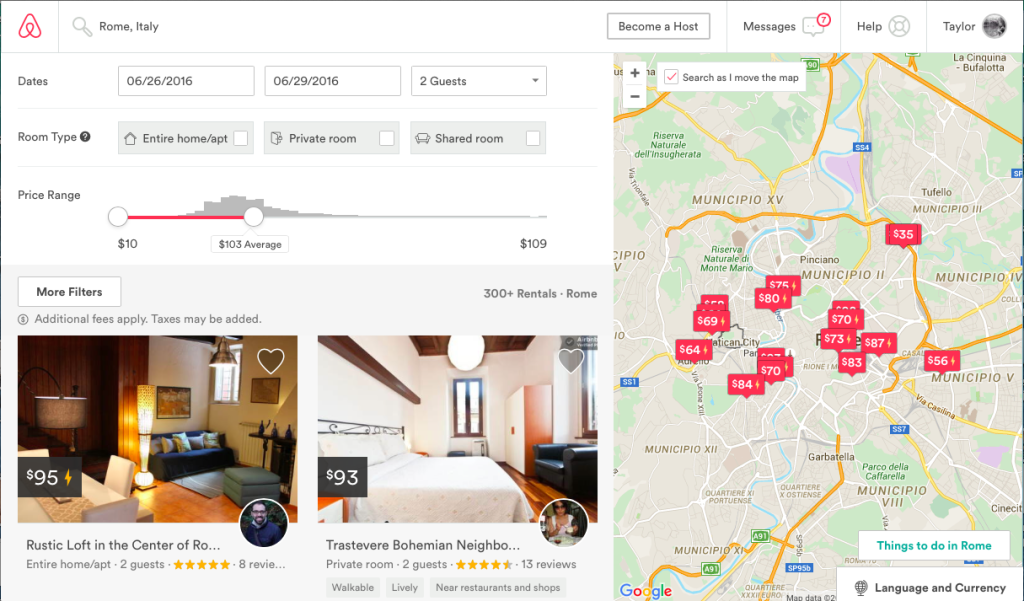 3. Book It
Some are instant bookings, some you have to get approval from the host. Once the approval goes through, you get an email with your confirmation. You can discuss travel plans with your host at this point.
What About Hosting?
Since Kyle and I don't have a home, we haven't had the opportunity to host yet. But for those who have an extra home or even an extra room in their home, you could consider signing up and becoming an Airbnb host. You can choose easy Paypal or direct deposit options.
Not only can you earn some side money and meet interesting people from all over the world, Airbnb offers their hosts insurance and a $1,000,000 guarantee in case guests ruin their space.
Sign Up For Airbnb And Save $25
For all of my beloved blog friends, I have an offer for you! Sign up using THIS link, and you will receive $25 dollars off your first booking. This will make your inexpensive trip – even cheaper!
Travel well,
Tay xo