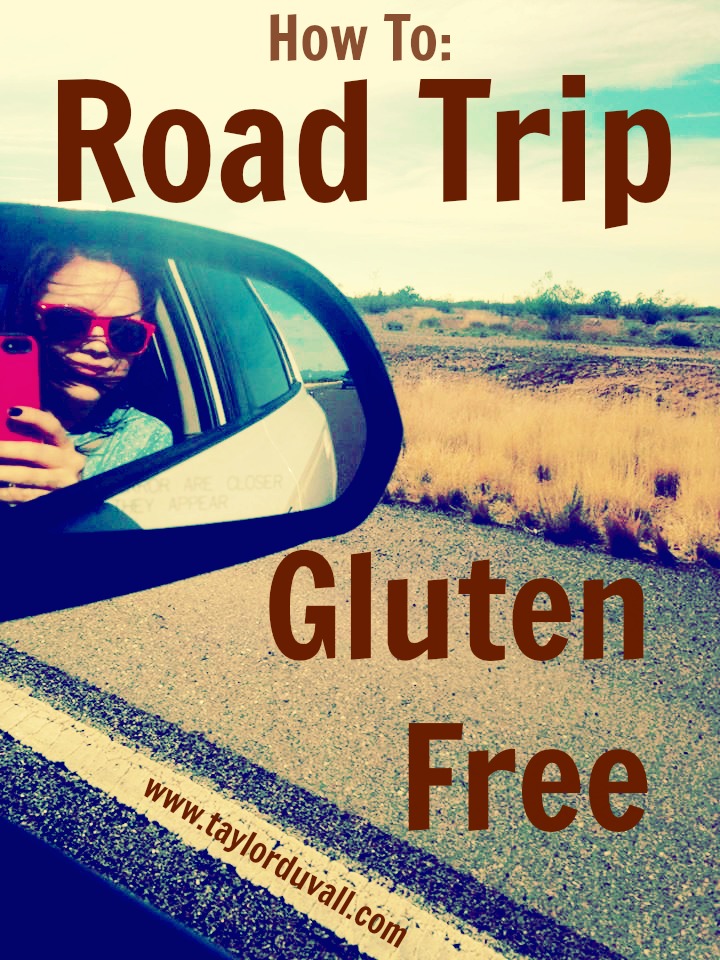 In 2014, I went on 10 road trips throughout the United States.  I love adventure and travel, so all this driving brought me to my happy place!
I also happen to have Celiac disease.  So typical "road trip" food from fast food joints isn't on the table.  Being on the road is the LAST place you want to experience any negative side effects from accidentally consuming Gluten! But just because I can't consume greasy burgers or sugary donuts along the way, doesn't mean I can't still enjoy every second of a road trip.
Through trial and error I've discovered how to road trip Gluten Free.  Here are my top tips:
1.  Prep food as much as possible
Preparation is the key to success when it comes to a long road trip!  I typically bring a bag of GF chips, some Larabars/protein bars, and a sugary snack. I have brought Gluten Free bread and lunch meat with me in a cooler. It's cheaper to bring it from home, and you can rest assured that there will be something for you to eat.
This is a good tip even for non-Gluten-Freers.  Bringing your own food and drinks is simply cheaper.  The more money you save, the more money you have to go on another trip!  Bring a six-pack of bottled water while you're at it.  In case something happens to your vehicle and you're stranded, you won't get dehydrated.
BONUS: My #1 way to save on these gluten-free items is to buy them from the online retailer Vitacost. Sign up using my Vitacost link HERE, and save $10 on your first purchase!
2.  Download the "Find Me GF" App
When I drive through bigger towns/cities the Find Me GF app is a lifesaver!  Once you get close to the city and have access to wi-fi, you can pull up the app and search restaurants with Gluten Free food near you.
Each restaurant is given ratings from reviewers and a preview of the type of Gluten Free food they have on their menu.  You can include chain restaurants in your search, but you don't have to.  This can be a cool way to find new local restaurants that you don't have at home.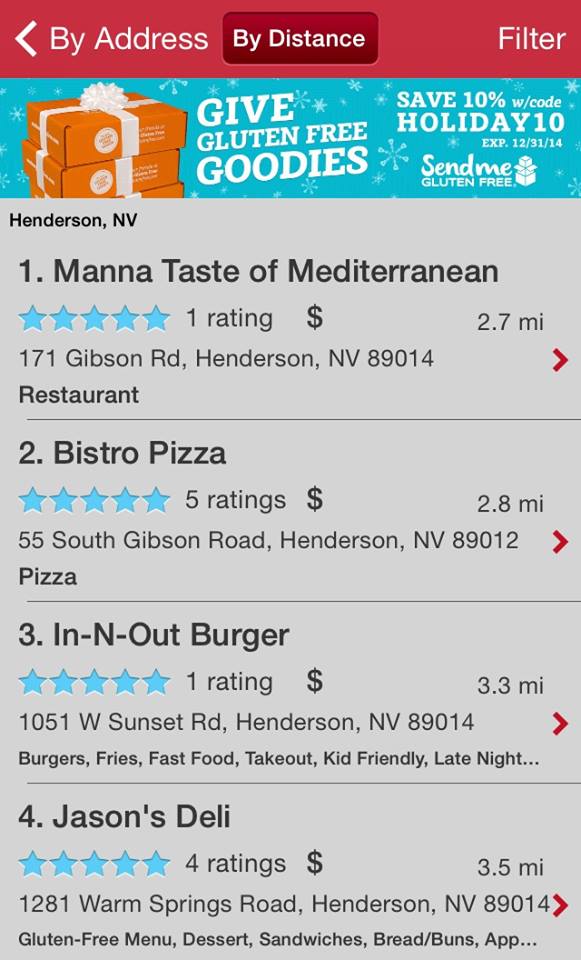 3.  Search the Convenience Store shelves
There have been times when I was hungry for a meal and was able to scrounge up enough food at a pit-stop convenience store to make a "snack meal."  A lot of gas station stores carry string cheese, yogurt, fruit, and nuts – throw those together and voila!
If you're only looking for a snack, you should have no problem.  There's always a bag of Lay's potato chips to be found or even a bag of peanuts.  And candy? Almost every single candy is Gluten Free.  On most road trips, I grab a small bag (ok a big bag) of Peanut M&Ms.  Click here for a comprehensive list of Gluten Free candy.
4. When in doubt, make Subway your friend
There are over 26,000 Subways in the United States.  Even the smallest of pit-stop towns typically have a Subway.  Subway offers chopped salads and almost every meat and sauce is Gluten Free (click here for the comprehensive list).  I'm not saying this is the most delectable meal you will ever eat on the road.  It's not.  But with enough veggies, you can muster enough flavor to keep you satisfied.
I typically order a spinach and lettuce base with grilled chicken.  I load up on the veggies and finish with avocado, oil, vinegar and salt & pepper.  Pro tip: ask the employees working the line if they would change out their gloves to avoid as much cross-contamination as possible.
Please see more Gluten Free Travel tips HERE!!!  Happy (Gluten Free) Travels!!
Remember: My #1 way to save on these gluten-free items is to buy them from the online retailer Vitacost. Sign up using my Vitacost link HERE, and save $10 on your first purchase!