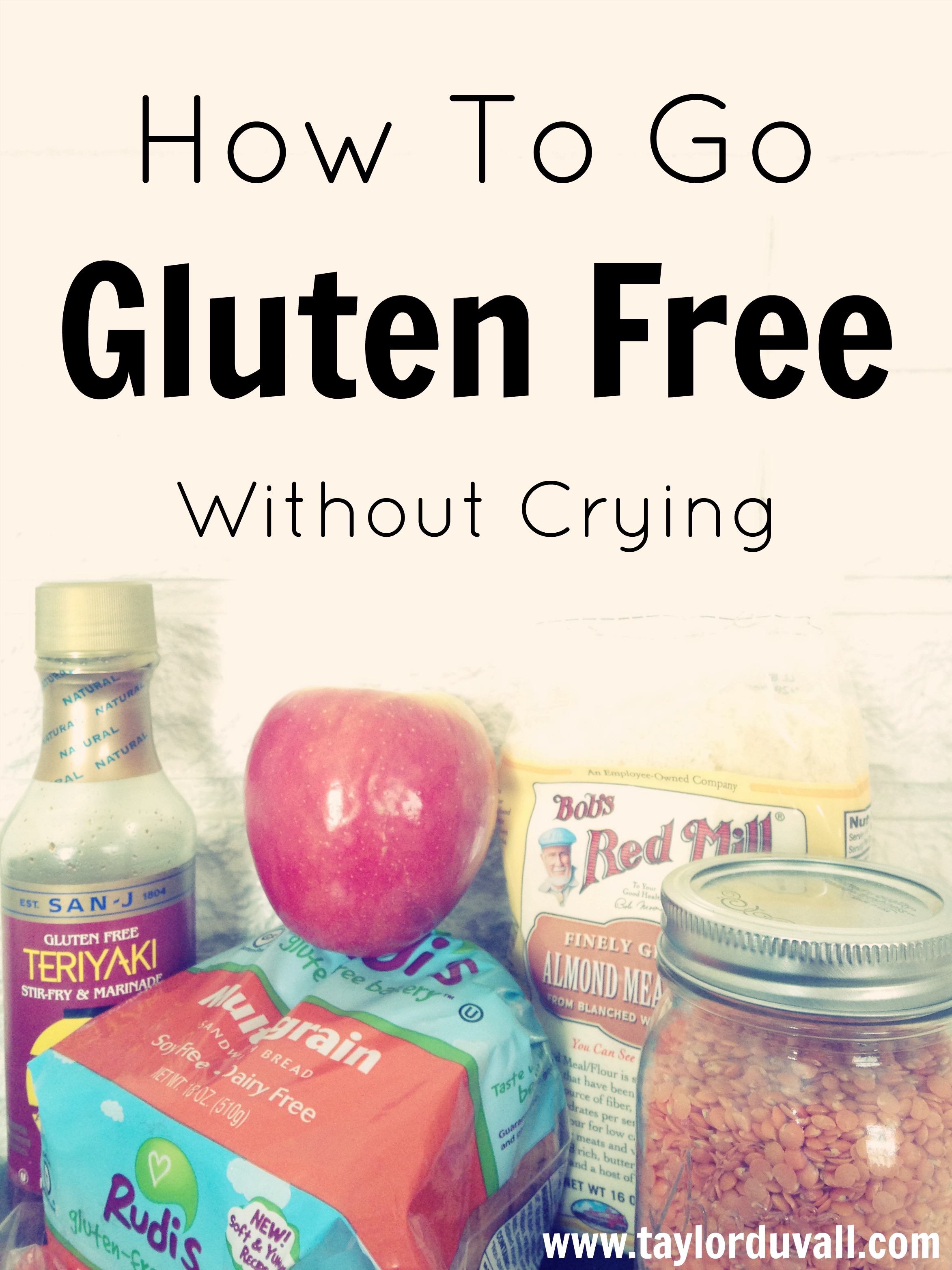 When I went Gluten Free (GF) years ago, I panicked.  "How will I live without bread.  And cookies.  And bread.  And pasta.  And bread?!?!  Lord save me."  I wanted to cry.  I thought enjoying life was over – even though I knew it was worth it.  After only 24 hours of no Gluten, I noticed a positive difference in my body.  After a week without Gluten, the change was so dramatic I knew it could never touch my lips again.
Bye-bye wheat, rye, and barley!
Turns out it wasn't that hard.  In fact, I rarely miss any Gluten-filled product.  When somebody devours a delicious cronut (croissant donut) in front of my face, I just slap them. When somebody enjoys French bread dipped in Olive Oil and spices, I just faint.  These activities make my Gluten Free self feel better.  I kid (not really)!
There are so many options for the Gluten-Freers.  SO MANY.  Fear not, my Celiac-y friends!  You're all gonna be just fine.  Remember: we can eat our hearts out on foods like meats, dairy (unless you have a dairy intolerance, unfortunately common in the GF community), produce, nuts, rice, quinoa (my fav!), oils/butter, and CHOCOLATE.
BONUS: My #1 way to save on these gluten-free items is to buy them from the online retailer Vitacost. Sign up using my Vitacost link HERE, and save $10 on your first purchase!
The "How to Go Gluten Free without Crying" Steps: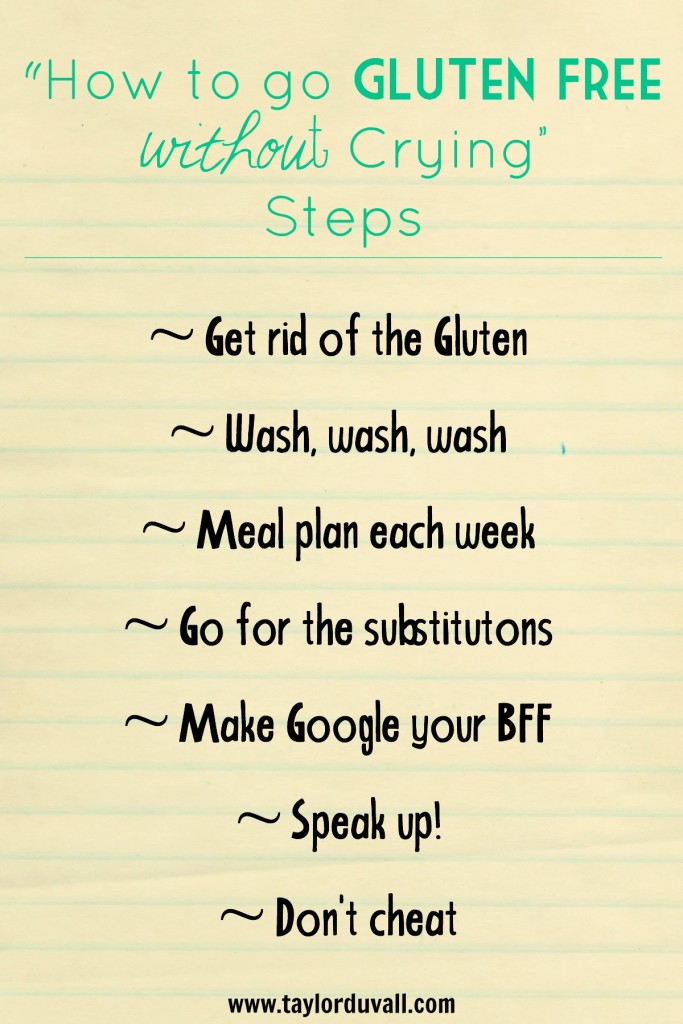 Throw out the bread, pastas, cookies, soy sauce, spice mixes, etc. that are not marked Gluten Free.  Or put them in a designated cabinet for your gluten-eating family members.  Out of sight, out of mind.  You won't accidentally grab them when you're not in the GF habit.
Wash all your pots and pans, utensils, and cooking spaces.  If you live with people who will continue eating Gluten, you will have to be careful.  Some people buy two of everything – two spatulas, two cookie sheets.  I just wash all our kitchen appliances thoroughly – no direct sharing.
Google Gluten Free recipes or use Pinterest!  Pinterest is a great resource for GF meal ideas (start here and then expand to here!) Have a plan, stick to it – especially when you're just starting out.  You won't get as overwhelmed while you're still figuring it all out.  Example:
MONDAY
Breakfast: 2 eggs, salsa, 1 slice of Gluten-Free bread with peanut butter
Snack: Yogurt
Lunch: Quinoa Salad with grilled chicken
Snack: Apple and almonds
Dinner: Tacos with corn tortillas and homemade taco seasoning, refried beans
Dessert: Dark chocolate (because, duh, you need chocolate!)
Some people say silly things like, "Don't buy substitute products, it's so much healthier and cheaper to just eat lettuce wraps."  Girlfriend wants bread and pasta!  Celiac was going to kill me; brown rice pasta isn't.  These substitute products will make the transition much easier.
Try both Rudi's and Udi's breads (Rudi's doesn't ONLY make Gluten Free bread, so make sure it's labeled).  They're more expensive. So when they're on sale, stock up and put them in your freezer! Jovial pasta is my favorite!  Non-Gluten-Freers love it too. You can't beat the ingredient list: Organic brown rice pasta, water. And San-J has great GF soy sauce.
Remember to look at the ingredients!  A lot of substitution products will use white rice flour or potato starch.  Try to stay away from those and stick to brown rice flour, coconut flour, garbanzo bean flour and healthier flours like these. 
When you don't know if a product is Gluten Free and it's not marked on the package, google it! Most products have GF info on their website.  If they don't, you can often find the info on a forum. Just google "Is (blank) gluten free?" and research away!  This is also a great way to find restaurants.  I often google "Gluten free (restaurant name)" — this gives me a leg-up in case the staff isn't up on their GF facts.  Also Google hidden sources of Gluten.
This is still the hardest one for me.  I feel bad about my Celiac, and I shouldn't.  I often feel like it makes me high maintenance.  Which it does, kinda.  But this is a matter of my life, my health.  Tell your family and friends. Explain to them how important it is.  Tell the waitstaff at a restaurant that you cannot consume Gluten, because it will give you the shits (No, no, feel free to leave that detail out).
Pro Tip: Celiac/Gluten Intolerance is NOT classified as an "allergy."  But most people don't know that.  SO when you're at a restaurant, and you think they're not understanding the importance of you staying away from Gluten, tell them you are terribly ALLERGIC to it.  That's a buzzword that just might save your stomach!
You cannot cheat on a Gluten Free diet when you're eating that way for Celiac Disease or a Gluten Intolerance.  It's not a weight-loss plan where you can splurge on Friday night.  You either eat Gluten Free or you don't.  Even the tiniest amount of Gluten can send your body into a tailspin.  Make the commitment; your body will thank you by not ruining your life.
Have questions about how to go Gluten Free?? Use my Contact page in the upper right hand corner to email me!  Or comment below!
BONUS: My #1 way to save on these gluten-free items is to buy them from the online retailer Vitacost. Sign up using my Vitacost link HERE, and save $10 on your first purchase!
Also see: Gluten Free Travel