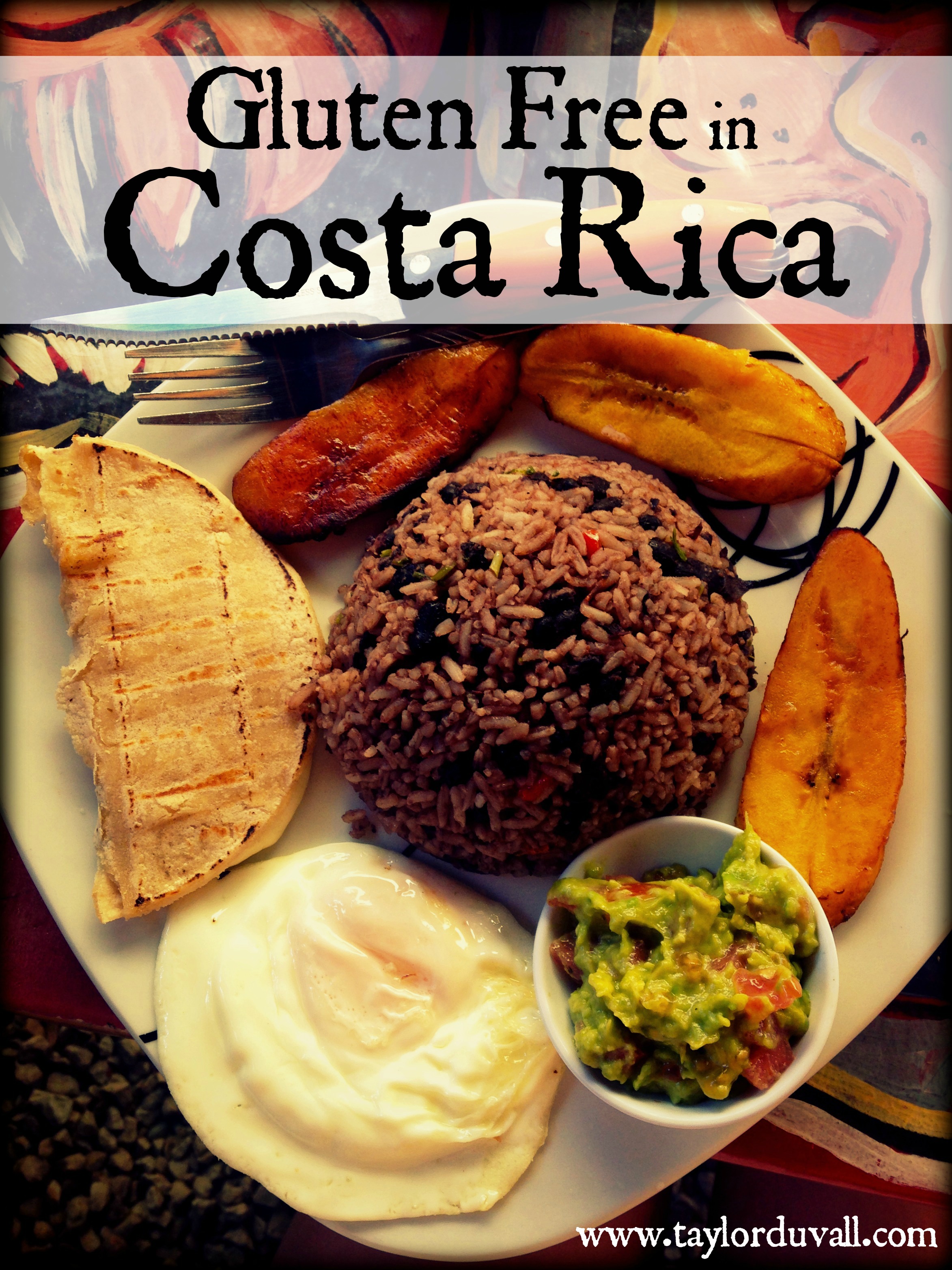 Being a Gluten Free traveller in Costa Rica was a breeze. Like many other Central American countries (click here for Gluten Free in Puerto Rico!), Costa Rica's staples are rice and beans. They also eat a lot of meats and veggies.  This meant that I had a meal option every place I went. Keep in mind that the Costa Rican diet is pretty mild, we didn't encounter spicy food during our trip.   Here are the common Costa Rican dishes that I safely enjoyed:
Gallo Pinto
Gallo Pinto is a traditional Costa Rican breakfast dish made of rice and beans.  When you order Gallo Pinto, it often comes with eggs, a choice of meat,  fried plantains/bananas, and sometimes a corn tortilla.  Rice and beans for breakfast?  I wasn't so sure.  But I always believe in eating as the locals do.  Now I wonder why Americans don't consider rice and beans to be a breakfast food!  I woke up craving my Gallo Pinto each morning!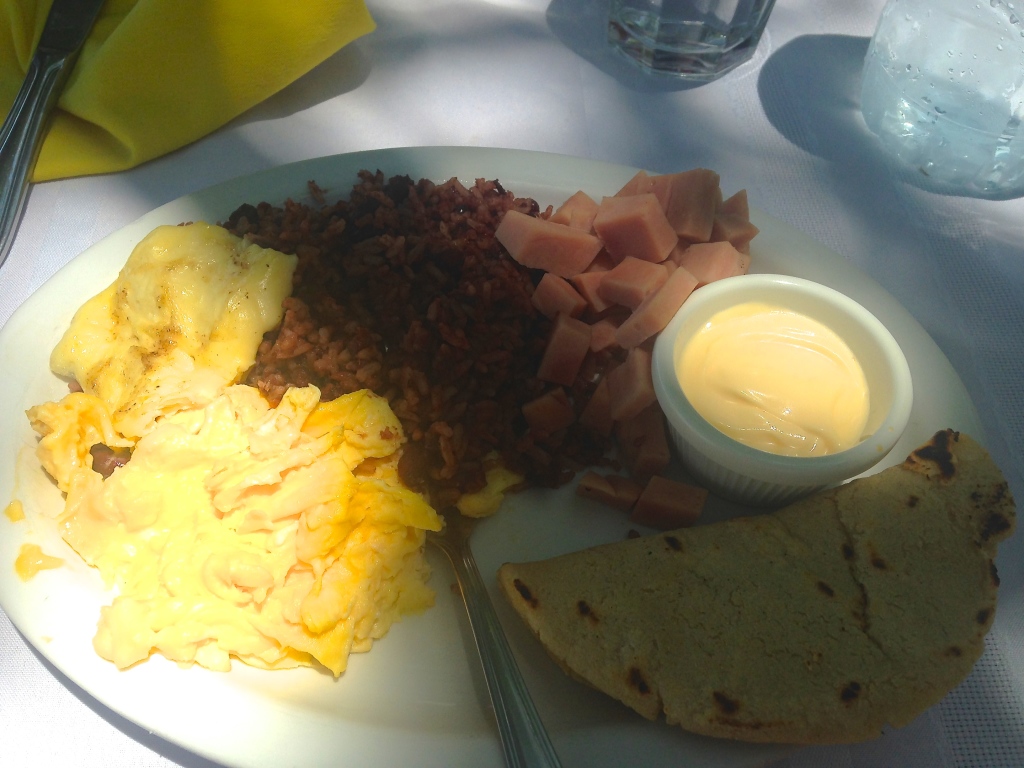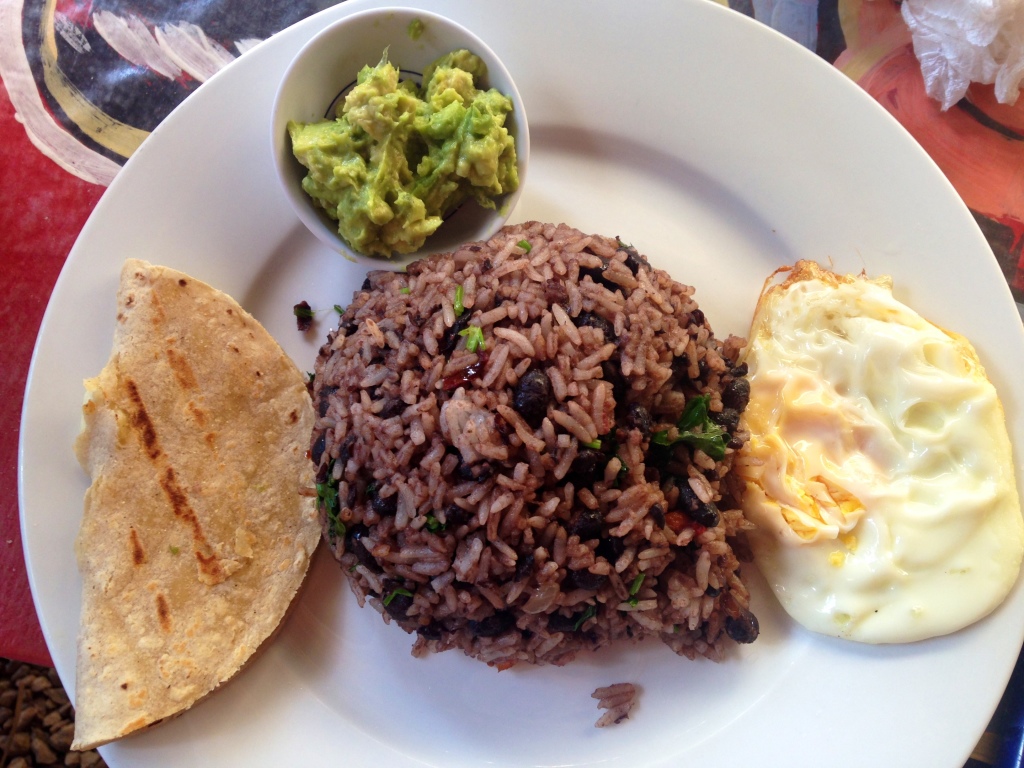 Casado Plate
A common lunch or dinner in Costa Rica is a Casado plate.  These plates include rice, beans, plantains, meat of choice, salad and a veggie (and often a corn tortilla).  It's very simple food, but always delicious.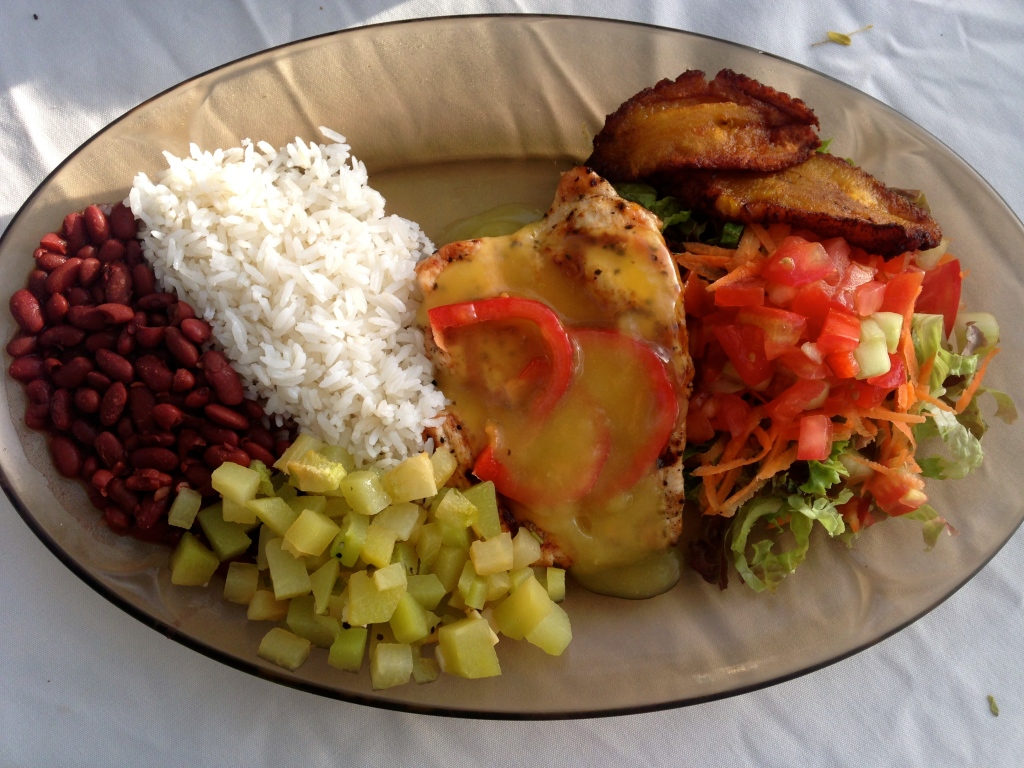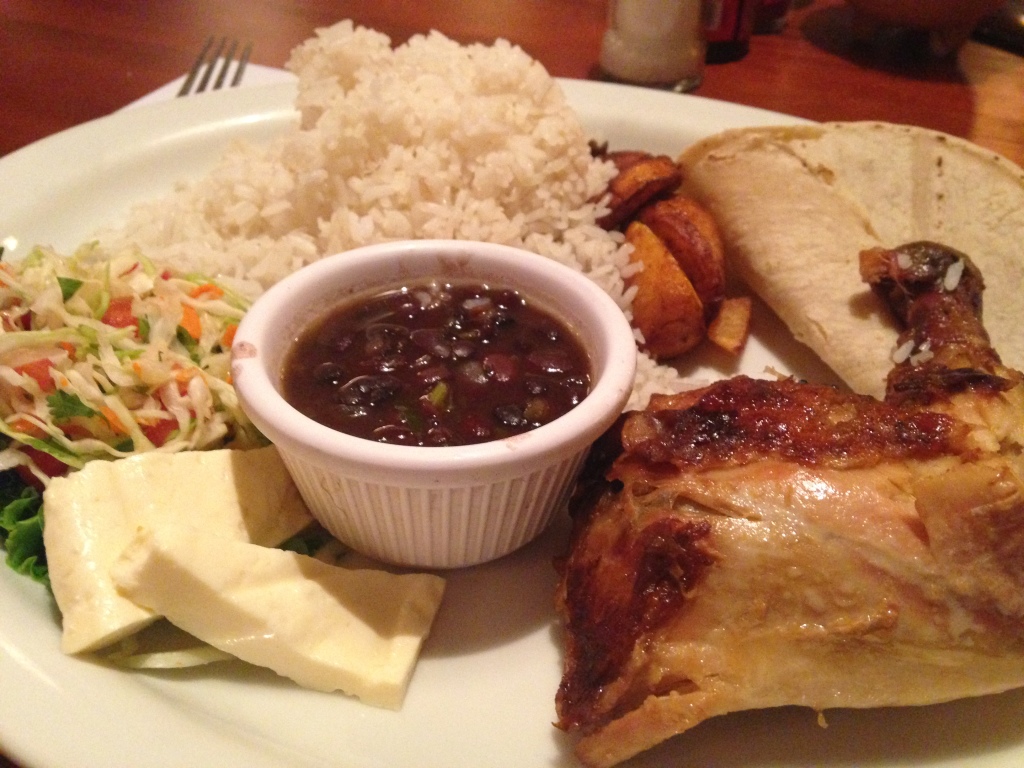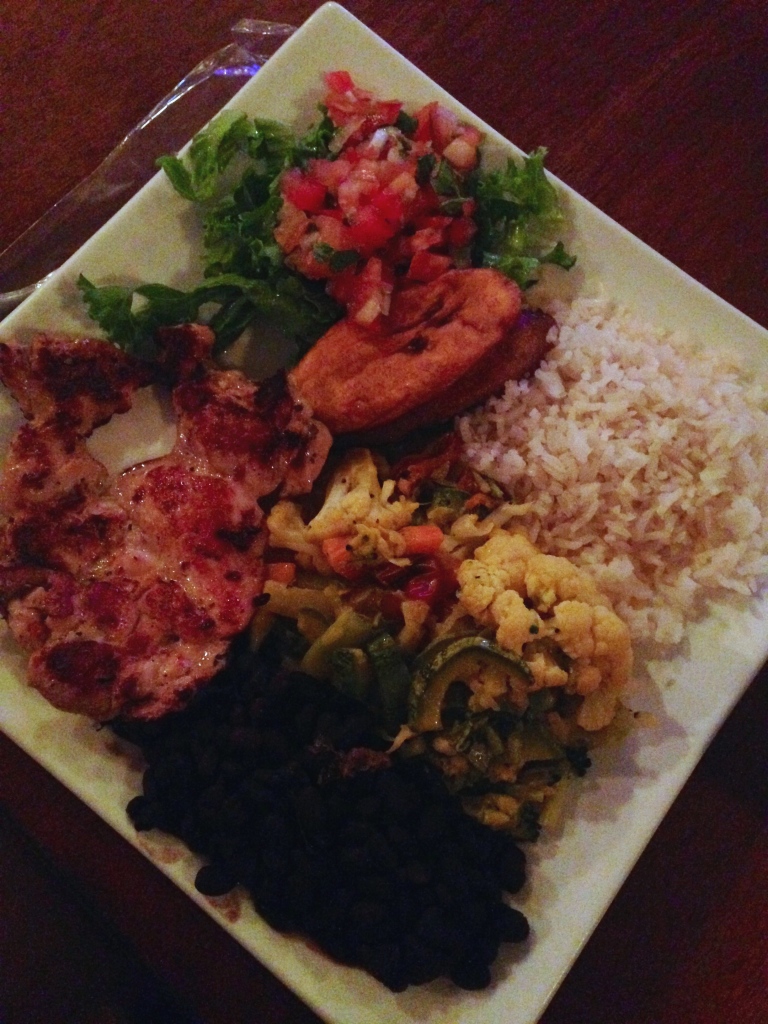 Ceviche
Secret: I hadn't had ceviche before coming to Costa Rica.  I also hadn't had octopus.  I can cross both of my bucket list!  Ceviche is a raw fish dish, cooked with a variety of fish (including octopus…yum!).  The fish is "cooked" or "cured" with citrus juice.  You then can eat it with corn tortilla chips.  This was one of my favs!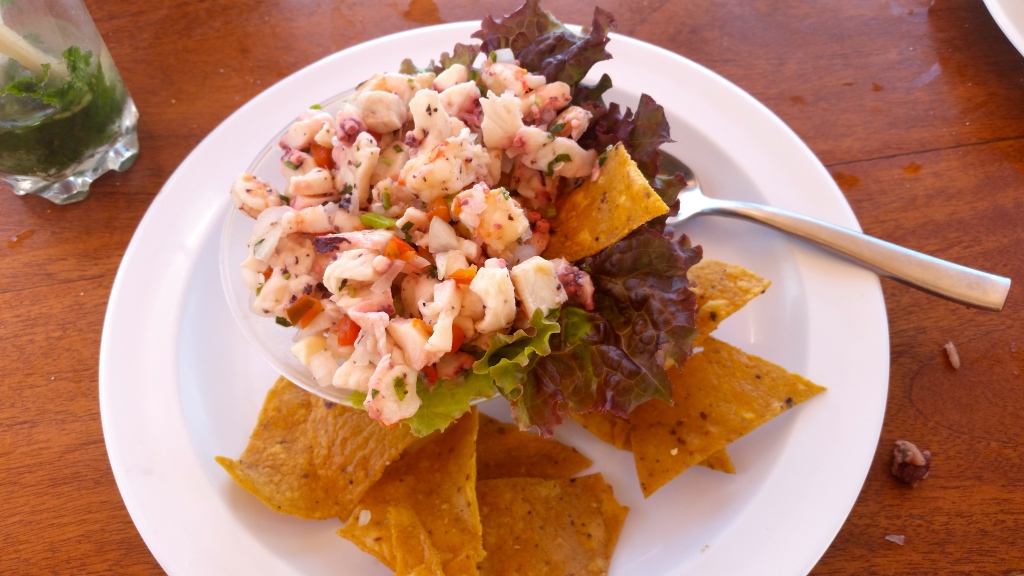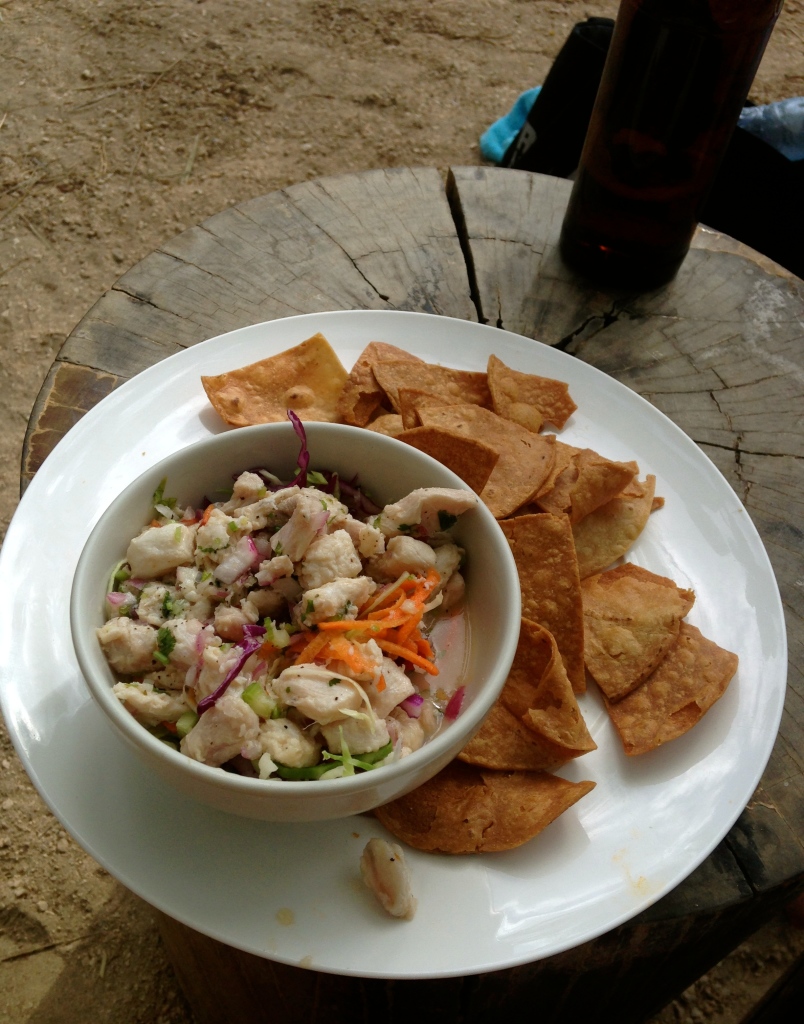 Drinks
Coconut water is abundant in Costa Rica.  It's the perfect way to stay hydrated in the blazing heat.  The locals walk around with coolers and will cut one open for you right there.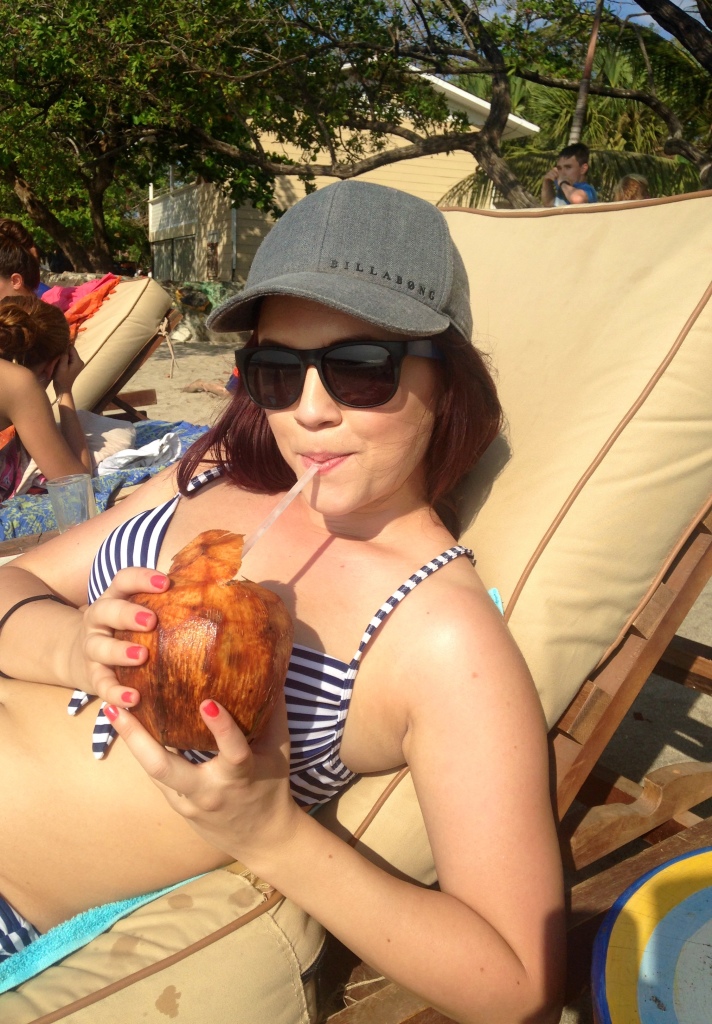 Smoothies are a big deal in Costa Rica.  I had all sorts of tropical fruits in mine.  They are so refreshing on a hot day. (Sidenote:  Water in Costa Rica??  We drank bottled water the entire time, but gambled on the ice.  We were perfectly fine.  Costa Rica water is safe to drink, but does contain bacteria foreign to Americans.  So it can possibly leave you running to a toilet.  We didn't think it was worth the risk on a 9 day trip.  If we were there longer, we would have had the water.)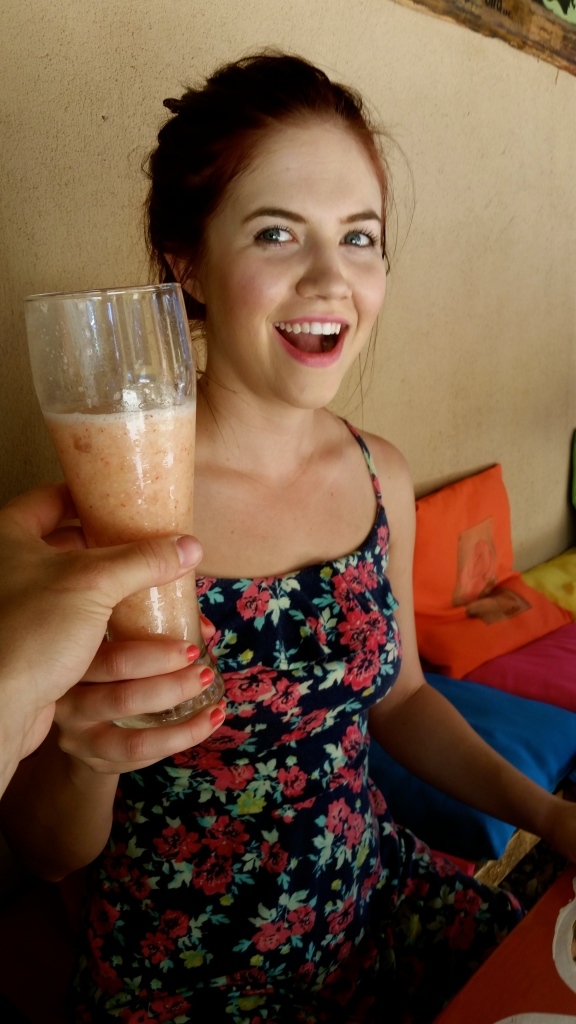 COFFEE.  I can't consume caffeine.  And that was my greatest Costa Rican tragedy (forget the puking during my flight or visiting the hospital!)  I did take a sip here and there of my boyfriend's coffee.  Let me tell you.  It is absolutely delicious.  If you are a coffee drinker, you'll be in heaven.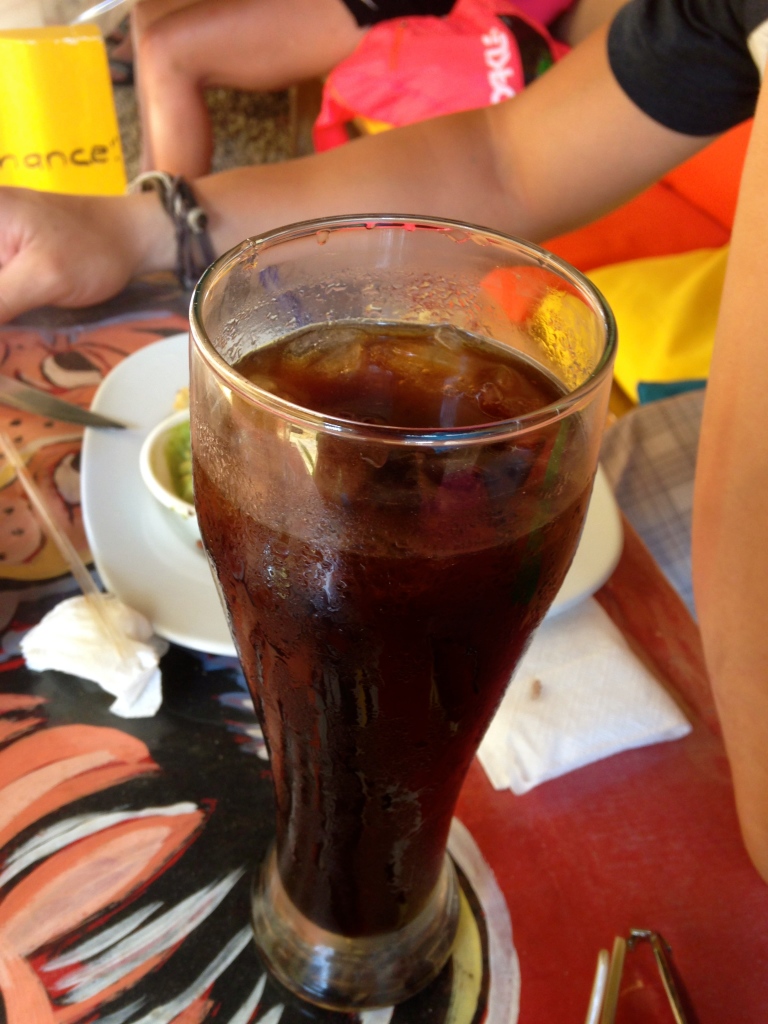 Other
The only dessert we ordered our entire trip was this fresh coconut ice cream in a coconut shell with toasted coconut.  Holy coconut heaven above!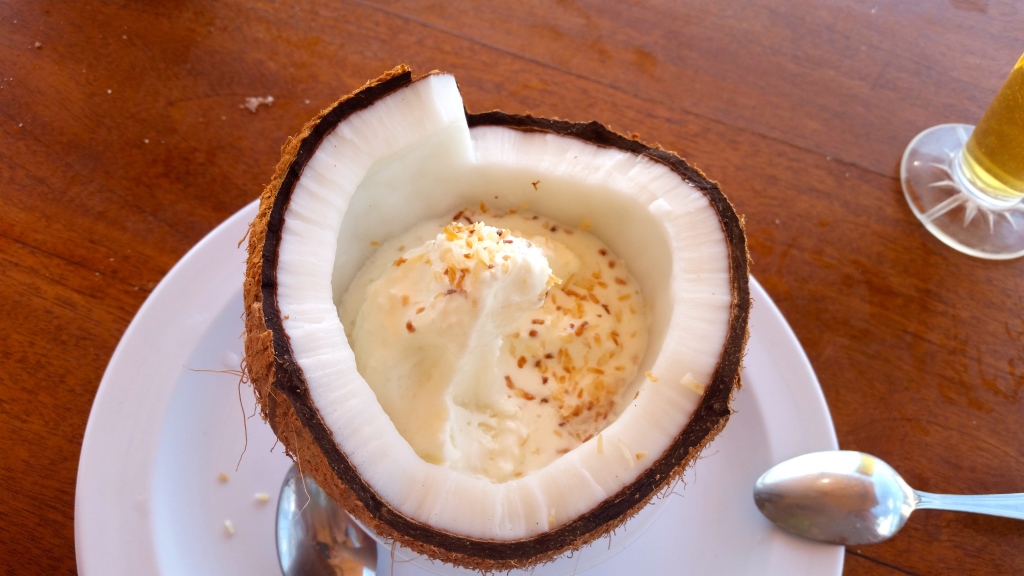 We got it "to share."  You can see how sharing went…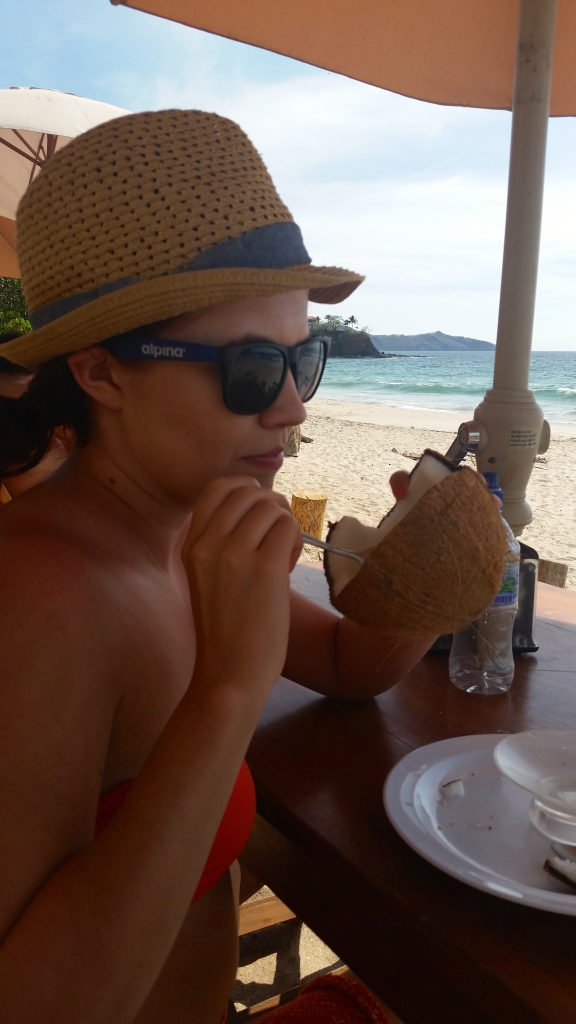 The only morning I didn't have Gallo Pinto for breakfast, I had a Gluten Free waffle on the beach.  It's a hard life.  We enjoyed waffles at Coffee & Waffles in Tamarindo.  It was so nice to be able to sink my teeth in some Gluten Free sugary goodness.  I can't recommend their Gluten Free waffles highly enough!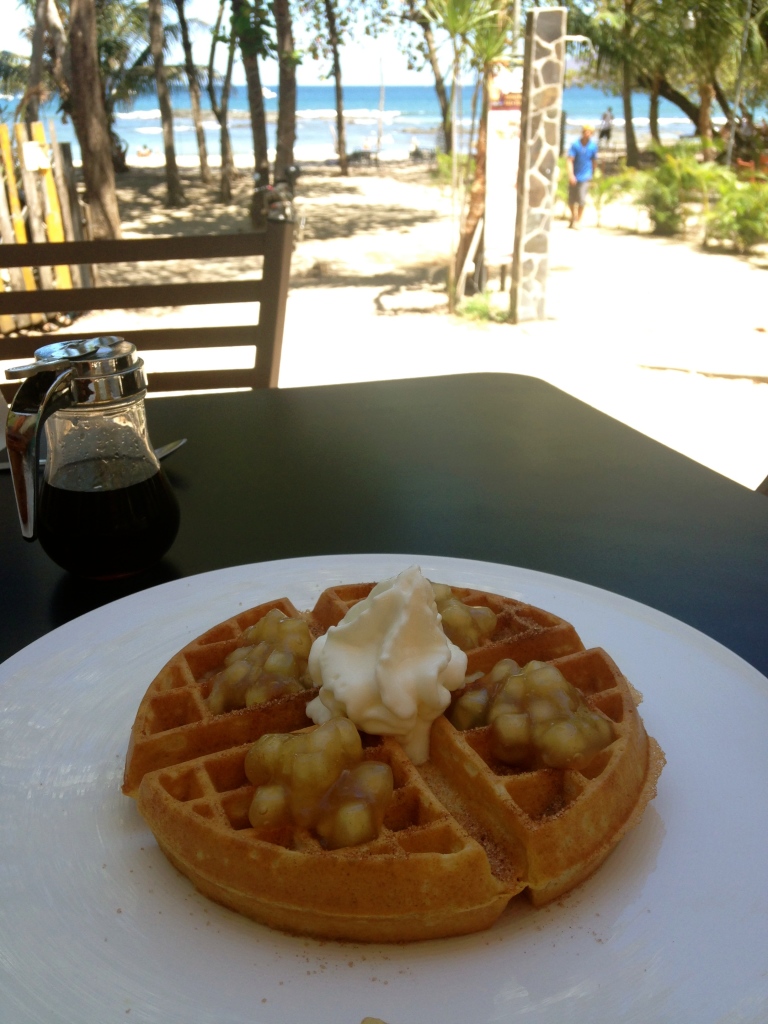 Of course while we were there, I enjoyed some fried plantains.  A dish I fell in love with while in Puerto Rico.  Fun fact: Apparently Costa Ricans don't call fried plantains "tostones" like they do in Puerto Rico.  In Costa Rica, they are "patacones."  Do not, I repeat, do not mix this up!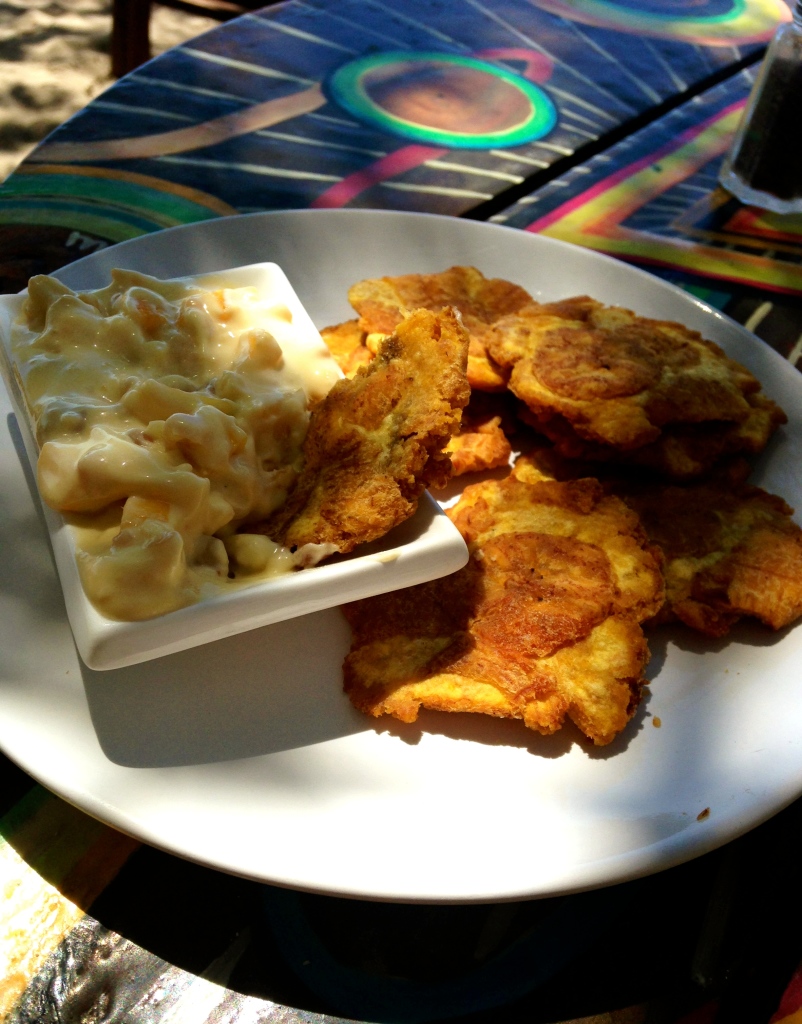 If you are a concerned traveller with Celiac or a Gluten Intolerance, put your fears aside and fly on over to Costa Rica. Any traveller will be quite pleased with the simple, yet delicious cuisine!  Pura Vida!