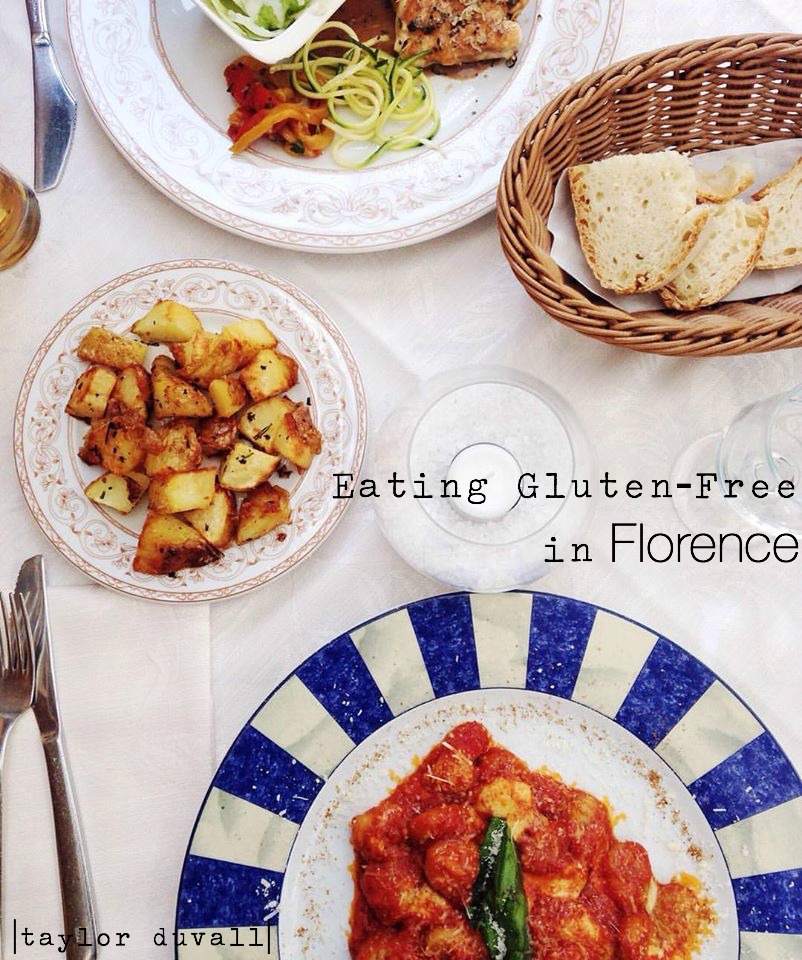 In all my years as a gluten-free eater with Celiac, I have never had an easier time or a more enjoyable time eating out than I have in Italy. I know, I know, you think of all that bread and pasta and assume it's a gluten nightmare.
Not the case at all!
Eating gluten-free in Florence was a joy. In fact, Italy as a whole is far ahead of the States in terms of gluten-free availability and contamination caution when preparing food in a shared kitchen.
When we leave Rome, I will do a huge comprehensive ultimate guide to gluten-free eating in this wonderful city. But now I want to highlight the amazing places we ate while staying for 3 days in Florence.
Starbene Gluten Free
Let me just start with the Queen of Gluten-Free. I found the absolute best gluen-free pastries I have ever had in my life – by a long shot – at Starbene. In fact, they were probably the best pastries I've had in my life overall. The owner has figured out how to make gluten-free flours to be light and flakey.
Over the three days I enjoyed both chocolate and custard-filled croissants, an apple strudel, and a chocolate donut. All were pure bliss.
Ciro & Sons
Right off the train from Rome, we were starving. Luckily, Ciro & Sons was only a 10 minute walk away. We sat on their lovely patio and shared a bottle of sparkling water. Almost every single thing on their menu could be made gluten-free. The waiter took his time to explain the few things that could not be converted.
I opted for Gnocchi (pictured above). It was truly the best I've ever had. Kyle and I shared a banana caramel cheesecake because we weren't quite painfully stuffed enough! This was probably the best meal we had.
Trattoria da Garibardi
For our first dinner, we stopped at this highly-rated restaurant in the heart of Florence, Trattoria da Garibardi. The gluten-free menu was extensive and delicious.
We started the night of with a half liter of red wine. Then we shared a gluten-free fried pizza dough starter with ham and cheese. The waitress then brought me out GF bread loaf. I chose eggplant parmesan for my main course. Incredible.
Le Botteghe Di Donatello
Our second day was spent mostly at the Duomo, so we wanted a place nearby. Le Botteghe Di Donatello is right across the street from the Duomo, which means it's convenient, but slightly pricier. We sat inside due to the rain and had phenomenal service.
We shared half liter of red wine. I ordered pizza with a crispy gluten-free crust, mushrooms, real mozzarella, and prosciutto. For dessert, I had a panna cotta with berry sauce.
I'Toscano
For our final dinner, we went away from the crowds and found a small, rustic, authentic Italian restaurant called I'Toscano. It was quiet other than all the Italian voices! Loved it.
Their entire menu could be made gluten-free. We started with (you guessed it!) a half liter of red wine, a basket of gluten-free bread, and then a meatballs starter. I opted for a lighter dish this night and chose chicken and greens. To the side there were fried veggies. Truly the highly of the meal. We finished by sharing a chocolate torte
Maso
Before our train the final day, we grabbed some lunch at Maso and sat outdoors under the covered patio. While they didn't have gluten-free bread, they did have pasta and pizza dough. I opted for the gluten-free pasta with tomatoes and prawns. It was really nice and the service was wonderful.