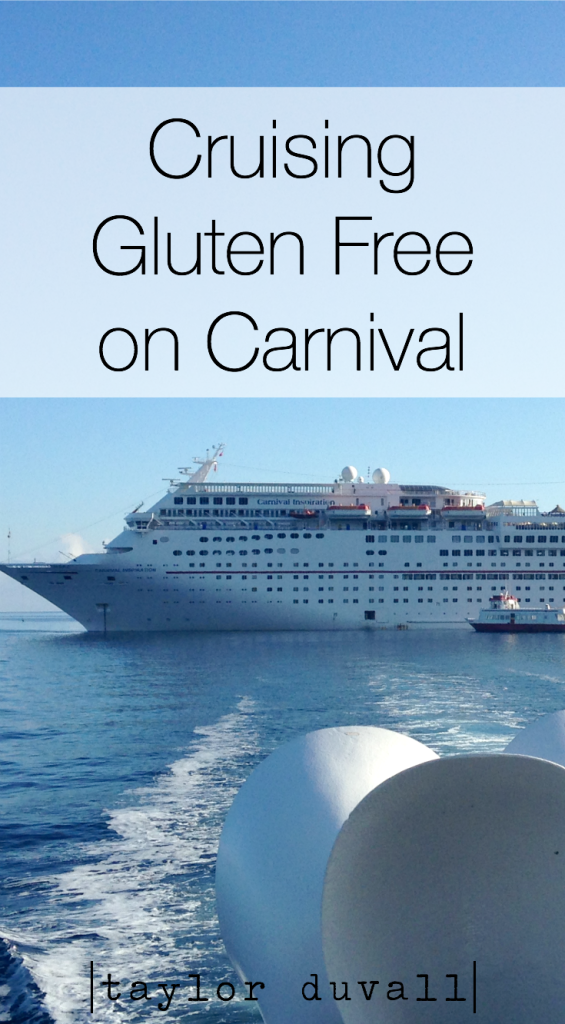 Traveling anywhere with Celiac disease can be anxiety-producing.  A vacation is meant for relaxation and enjoyment. But when a tiny bit of food can throw your body into a nasty tailspin, it can be difficult to stay carefree. Carnival cruises removed that fear for me.
You can absolutely eat gluten free on Carnival. And if you're not worried about food, you get to spend your time worrying about one thing only: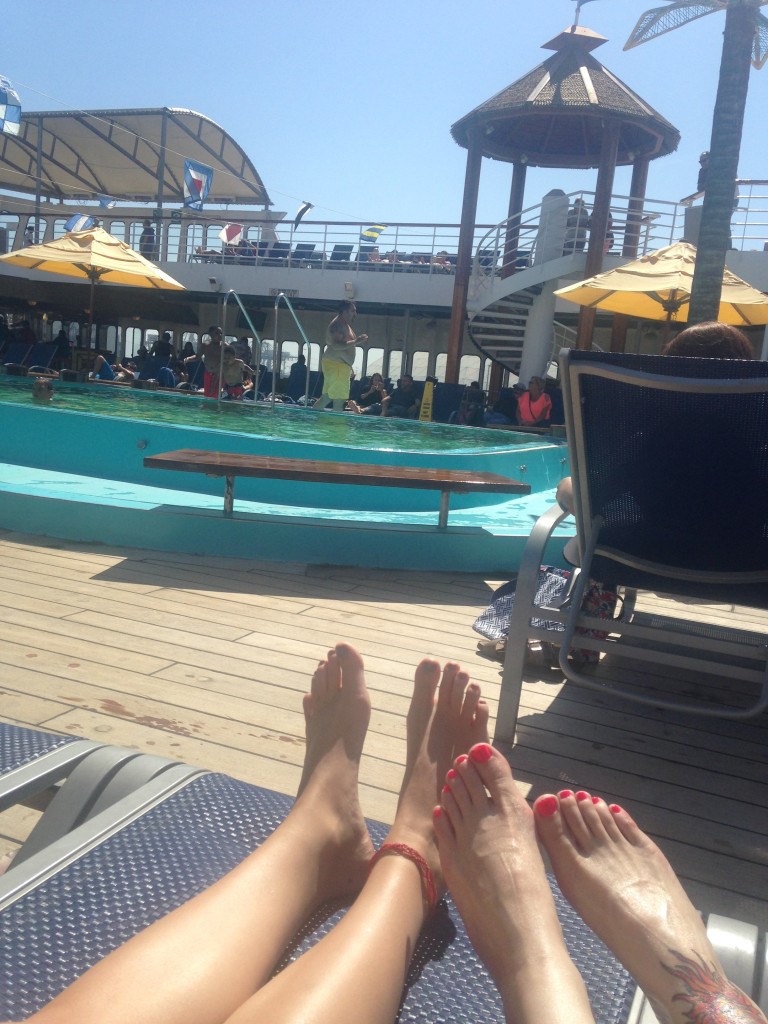 I went on two cruises to Mexico recently. One was the 3-day, one was the 4-day. (Read about the ports of call: Ensenada, Mexico and Catalina Island) Everytime I was on the ship, I had a great selection of Gluten Free Food and knowledgeable staff members ready to assist me.
Breakfast
Each morning I would either grab a hard-boiled egg or go to the Omelet station. There are no Gluten-filled ingredients at the Omelet bar, so I wasn't afraid of contamination. I'd have eggs with all the veggies you could want, ham, bacon, and cheese. Then I'd grab a yogurt, some fruit, and a piece of Gluten Free bread.

Lunch
Carnival carries Gluten Free pizza crust and Gluten Free sandwich bread. I was so impressed by their attention to preventing contamination. I went to the panini station one day and ordered a ham and cheese sandwich on Gluten Free bread. Without a word from me, the employee changed his gloves AND washed the utensils and the panini press. Very well done, Carnival, very well done. Also, a well-stocked salad bar can add to a filling, healthy lunch.
Dinner
Dinner was the most impressive part. On the first night of each cruise, my waiter would list off all the naturally Gluten Free dishes. Then, after my meal that night (and each night after) I was given the dinner menu for the following night so I could order anything I wanted. They custom-made each order to be Gluten Free. I enjoyed dishes like GF escargot, frog legs, pork chops, fish, and even a molten chocolate cake (I may have had that cake every night)! I would also be given Gluten Free bread at the beginning of each meal. I was made to feel as though I was dining in luxury just like everyone else.
Extras (AKA all the good stuff!)
Aside from Gluten Free food, the bar also carried Angry Orchard Hard Cider and a Gluten Free beer, along with a full bar (For a comprehensive list of GF Alcohol click here). There is always chocolate and vanilla ice cream available, if you're desiring a quick sugar high.
Not only was I provided an entirely Gluten Free experience on the cruise, but I was also provided with delicious food. Worry-free and tasty. I highly recommend a Carnival cruise to any Gluten Freer!