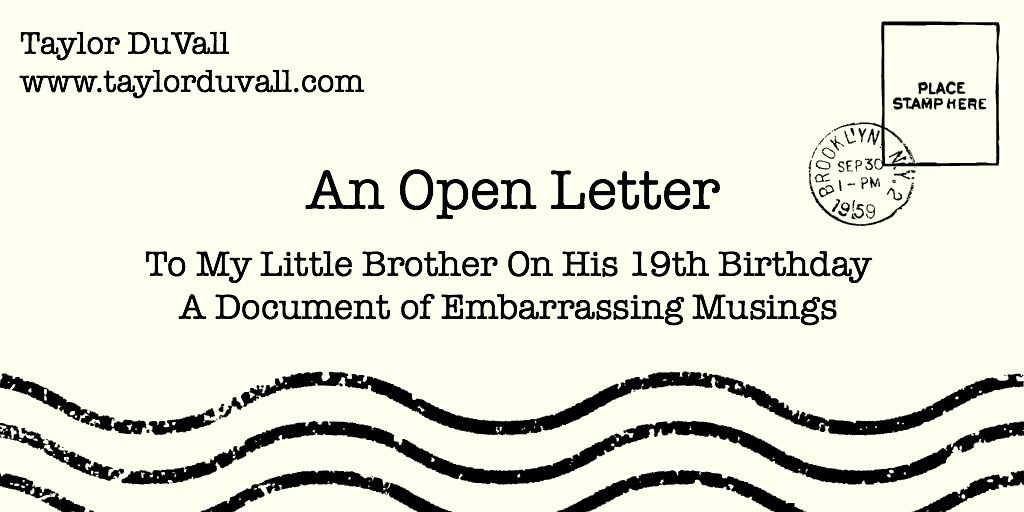 Dear Wyatt,
Yesterday was your 19th birthday, and I wanted to commemorate that momentous occasion with an open letter to you, my little bro.
You have been my best buddy since the day you were born.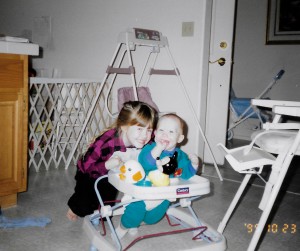 Ok, are you laughing as much as I am right now?!  Good. We both know that's a bold lie.
As the only child and only grandchild in our family for four years, I was used to having all the attention and being the Queen of the Universe.  Then you.  You came and stole my spotlight, you Glory-Stealer!  As they brought you into the house for the first time, I found myself bawling hysterically and screaming: "GOD, NO! WHY?!  WHY ME?!  SEND HIM BACK!  GOD, HELP ME! FOR THE LOVE, WILL SOMEBODY TELL ME WHHHYYYYY?!" Every cunning 4-year-old knows that if you want something done, you have to do it yourself.  And, if possible, you should find a way to profit while you're at it.
So I sold you.
Multiple times.  Successfully.  To family members.  I would strike a good bargain:
$1 for the boy baby, $2 and I'll throw in his diaper bag!  This amazing deal won't last long! One good healthy baby boy and his brand new shiny diaper bag… going once… going twice… SOLD to that gentleman I call "Grandpa"!  Congratulations on your new purchase!
I'd collect my dollar bills and walk with my head held high to our car to leave for the night… just me and Mom and Dad. To my bewilderment, time and time again, you'd be cooing away in that carseat of yours ready to come home with us!  That dumb diaper bag would be there too! This was not going according to plan.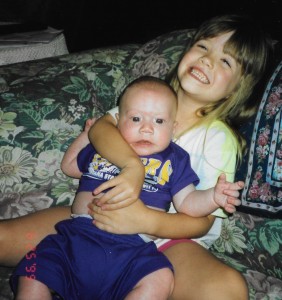 Wyatt obviously terrified of the crazy girl who keeps selling him
After months of selling you to no avail, I decided to move on to "Plan B."  If you were going to stick around, I might as well take full advantage of the situation.  I could have my own live-action baby doll!  You weren't just another lame Cabbage Patch doll.  You were a real boy!  So I dressed you up in girl's clothes, obviously.  I involved you in all my crazy imaginative exploits: sometimes you were the starving child and I the beggar mother surviving on nothing but cheez-its.
Then you started growing up and had the power to reject my play ideas.  So I proceeded to lock you in closets.  Punishment fitting of the crime.  You started talking back and telling Mom and Dad of all the "supposedly evil" things I was doing to you.  Suddenly, I knew I had met my match.  The Good Lord sent me a lesson in the shape of a human man-child.
Eventually, I came around and realized that you weren't all that bad.  In fact, you were pretty rad… for a boy.  You were really sweet, and you were actually pretty funny and would help me plan attacks against the Parental Units.  We became the united front against Mom and Dad, which was way cooler than I ever expected.
We became buddies.  Mostly because you softened me.  You were the first person to teach me what friendship means.  Friendship is a combination of sacrificing what you think you want and gaining what you actually need.  I thought I wanted to be the center of our family's attention.  What I actually needed was a funny buddy to go through my life with.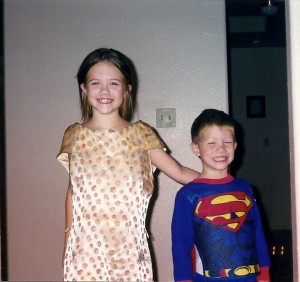 So we grew up.  We were secret-sharers, storytellers, and inappropriate joke makers.  We played music together and watched movies together.  We screamed at each other and fought like cats and dogs.  We fought fiercely with each other and fiercely for each other.  We were siblings to the fullest.
Somehow we became adults.  Somehow you became a "little" brother who towers over his "big" sister. Somehow we got to the point where we sat on the carpet in the hallway and you gave me the best advice and encouragement to help me get through a divorce.  How did that little baby boy become the man who helped me through the hardest season of my life?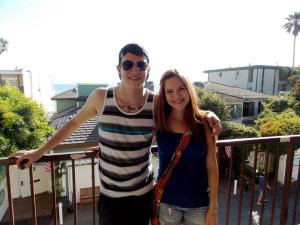 You are a good man, little brother.  You are doing great things.  You are insanely talented.  And on your birthday, I want you to know that I am proud of you.  So very proud.
Love always Wy-Wee,
Your Big Sister.
P.S.  You suck.