Before I talk about her book Yes Please, I must confess I am a true blue Amy Poehler fangirl.  Girl crush.  If I were to receive the opportunity to have lunch with any celebrity I would choose Amy Poehler.   If the world was ending and I got to choose one thing to take with me, I would save Amy Poehler.  Sorry, family and dear friends.
Amy (we are on a first name basis) made a name for herself on Saturday Night Live, but found her way into my heart through her character on Parks and Recreation, Leslie Knope. Knope is smart, quirky, ambitious, silly, loving, lively – but mostly funny.  Those sad folks saying women aren't funny, simply aren't paying attention.  Poehler plays a humble Parks department director who is a true feminist – with no bitchiness and plenty of humor.  A rare, but terrific female character to find on TV.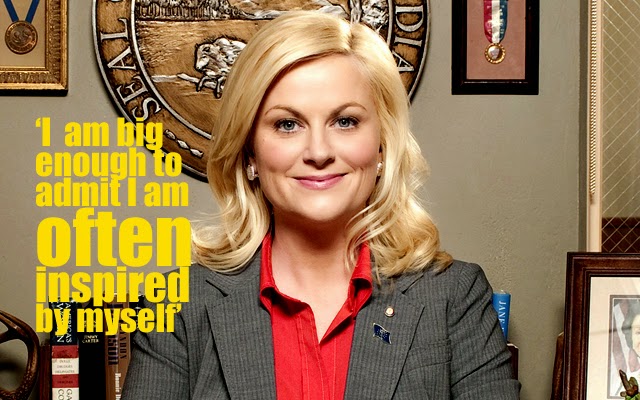 (source)
There is no show on TV written more perfectly suited for my liking, which I'm sure they were considering while producing it.  All this to say, Amy P and I are really the greatest of chums in my head.
Then she went about writing a book.  And it was exactly as great as I wanted it to be.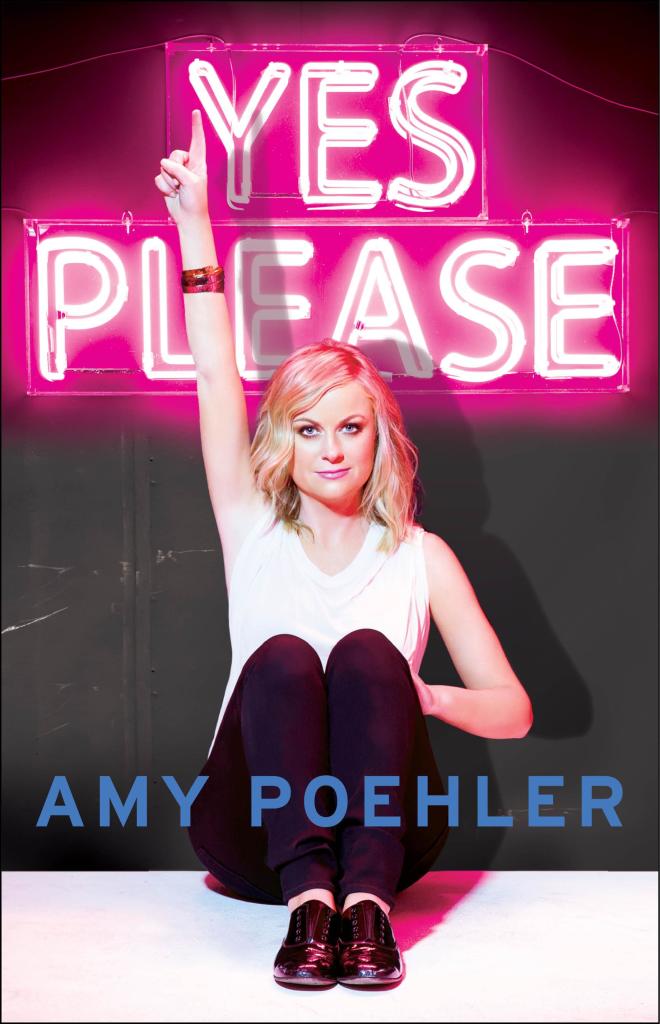 In Yes Please, Poehler is quirky, charming, hilarious and smart.  She discusses her adventure into the world of comedy and improv and her time on Saturday Night Live and Parks and Recreation.  She also throws in her thoughts on topics from pregnancy to divorce to drugs to parents and how women hate their bodies.  All of this is done candidly and hysterically with just enough cuss words and sex jokes to make it only the best book since Anna Karenina.
There's also a silly amount of true wisdom and insight.  One of my favorite moments is when Amy shares her motto: "Good for her! Not for me.  That is the motto women should constantly repeat over and over again.  Good for her! Not for me." As women we often think we have got it figured out and sometimes feel that we need to share how awesomely figured-out we really got it with everyone who OBVIOUSLY didn't figure it out yet.  This leads to a lot of shaming, fighting, and competition.  Instead, I love the idea of celebrating what works for other women (Good for her) and also knowing what works for our own lives (not for me).
As a young women entering the world in creative self-employed fields, I also valued her thoughts on careers and creativity: "You have to care about your work but not about the result.  You have to care about how good you are and how good you feel, but not about how good people think you are or how good people think you look."
I can't recommend this book more highly to my lady friends, whether or not your BFFs with Amy Poehler like I am.  Her thoughts on body image and children and love and career are important, but also fun.  You will laugh and feel empowered.  It's good to do both frequently.  I can also recommend it to my guy friends with the warning that the word "vagina" comes up regularly, and it's not in the sexy way you'd be hoping for: "Trying to get pregnant is the most vulnerable thing in the world.  You have to openly decide you are ready and then you have to put sperm in your vagina and elevate your legs like you are an upside-down coffee table.  It's all ridiculous and incredibly sci-fi."
Love me some Amy Poehler…and Yes Please truly delivered
.