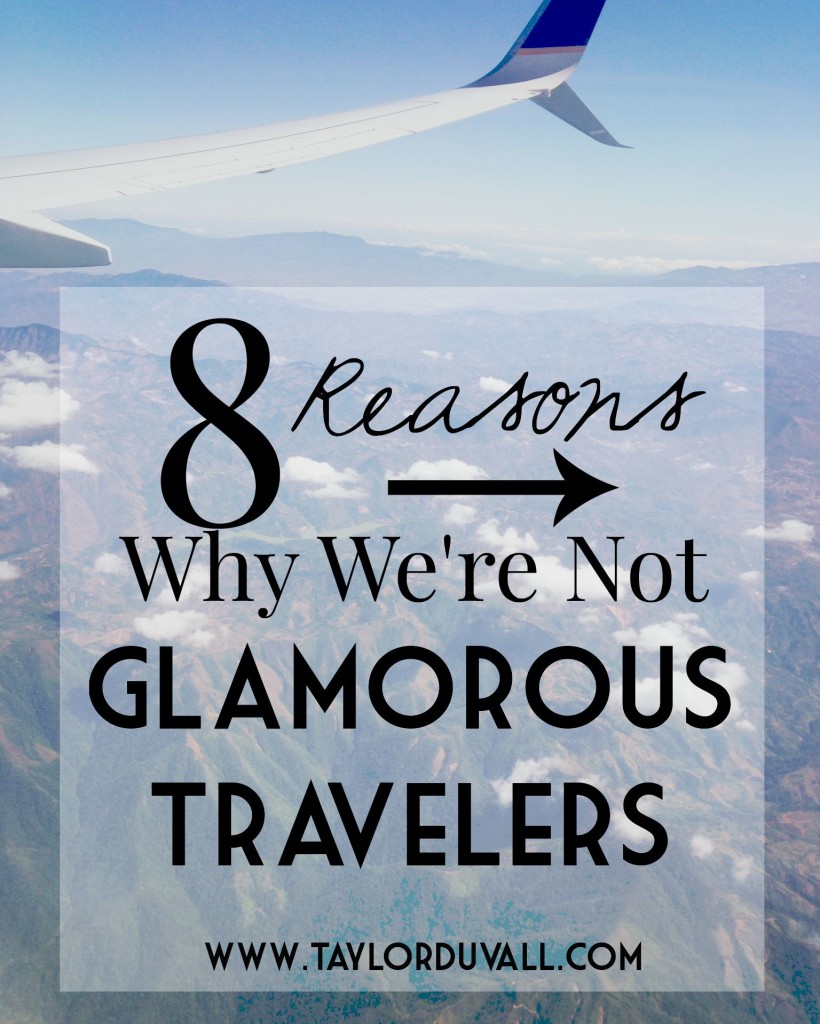 There was an article floating about the internet discussing how the frequently travelled life isn't truly a glamorous life, and how Instagram feeds are lying about how cool and beautiful travel is.  I don't think the article is wrong.  As much as I adore travel, The Boyfriend and I are NOT glamorous travelers.  But the article's conclusion was to not travel as much.  My conclusion is to fully accept the lack of glamour and do it anyway!
Here are the reasons we are not glamorous travelers. P.S. we are totally ok with it!
1. We're adventurous travelers
Spa dates and fancy shoes don't typically accompany our traveling.  While we'll do plenty of relaxing, the goal of our trips is to explore new places, not necessarily to be pampered.  Adventuring often means dirt, mud, cuts and bruises, sunburns, language barrier troubles, physical labor, etc.  Not necessarily a concierge service.
2. We're messy travelers
Truth be told, we're messy people in general.  Traveling only intensifies our nature.  When you are in a new place full of exploration potential, why waste time tidying the hotel room?  Really, it's laziness time management.
3. We're broke travelers
ALL THE TIME people ask: How do you have so much money to travel? And ALL THE TIME we respond: Because we don't spend money on anything else!  We have no enviable possessions, and we don't travel luxuriously.  In fact: We always travel on a budget.
4. We're unorganized travelers
We're lacking in the planning department.  If you read about the first part of our trip to Costa Rica, you can see one example of fiasco due to lack of organization.  We probably could fix this, but we probably wouldn't have as many wild stories.  It's a toss up.
5. We're sick travelers
It's not that we are more sick than any other human being, but we're not immune from getting sick when traveling.  It's not fun.  It's definitely not glamorous.  It's always a great way to get really close to your partner really fast.  Advice: Bring ibuprofen, imodium, and UTI antibiotics everywhere.
6. We're sleepy travelers
Because we are broke travelers, we excel at red eye flying.  At least, we excel in booking cheap red eyes flights, not in sleeping through them successfully.  I've even puked through an ENTIRE read eye before (see point #5).  We arrive every single place we go tired as dogs.  You gotta do what you gotta do!
7. We're bug-bitten travelers
Or at least I am!  The bugs love me, what can I say?!  I have horrible reactions to mosquitos and sand fleas.  Nothing says glamour like a leg covered in fifteen red swollen welts.  But you know what?!  I get those bites on beaches with gorgeous sunsets and in forests with amazing sights.  Worth it.
8. We're broke travelers
Oh wait!  Did I already mention this one?  Maybe I didn't bring the point home enough!  You can travel and not have a lot of money!  Priorities, my friends.  Don't know where to start?  Feel free to message me.
I love every single second of our traveling experiences even though they are never perfect.  I feel enriched and rewarded, but mostly, travel is simply FUN!  I'd take that over being glamorous travelers any day!
P.S. Told you we're not glamorous: