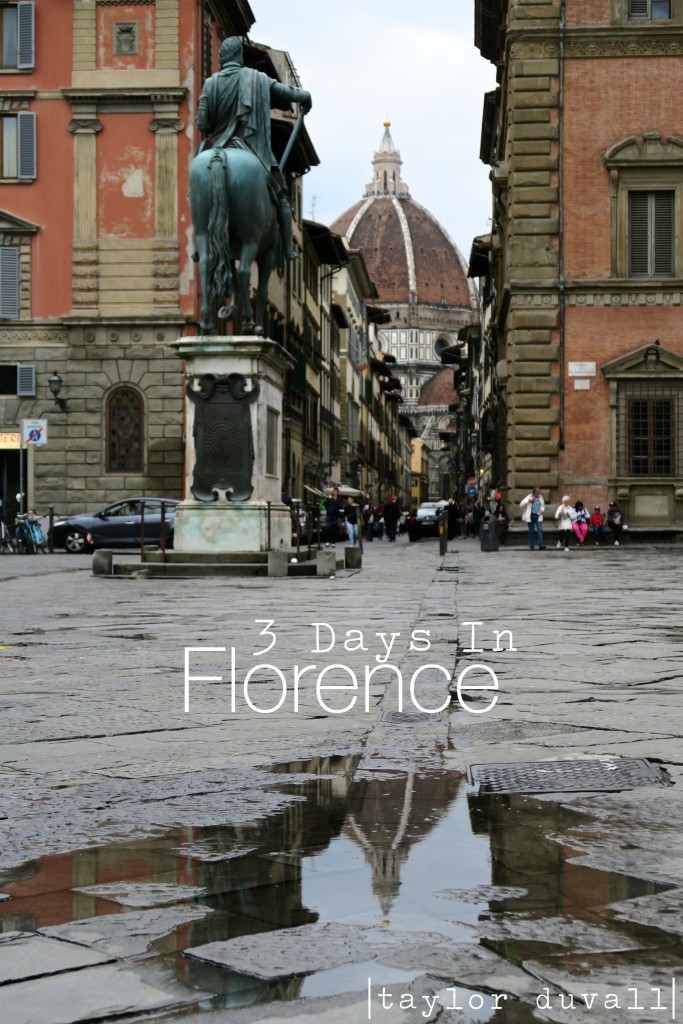 After considerable research (AKA a quick google search), Kyle and I decided to make the Trastevere neighborhood of Rome our home base in Rome for six weeks. We knew we wanted to do some exploring outside of the Rome area, and our first stop was Florence!
Florence: Quick & Interesting Facts
It is said that 1/3 of the world's treasures reside in Florence. Holy art!
"Florence" is how Americans say it. It's "Firenze" to the Italians.
Florence is the capital of the Tuscany region.
Florence also has cobblestone streets, but the stones are typically much wider than the stones in Rome. Much easier to pull off heels, ladies.
Florence is known for its leather products, and as you walk down many streets you can smell that delicious leathery scent.
It was pretty chilly and rainy most of the time. Luckily, we brought two umbrellas with us so the fun never ended. I think the overcast skies and silky wet streets made it it even prettier!
Florence is extremely touristy. I swear it felt like there were more Americans/Canadians walking around than Italians. We still felt that experience was lovely and genuine. Here is all we did in the three days in Florence!
Day 1:
Train from Rome to Florence
While we had already taken the train from the airport to our neighborhood, this was our first experience with longer trains. It was quite enjoyable. I was a bit nervous it would be difficult to find our train each time, but each station was well-organized and labeled. The train was comfortable and had outlets for us to charge our phones (we brought our American plug converter).
Apartment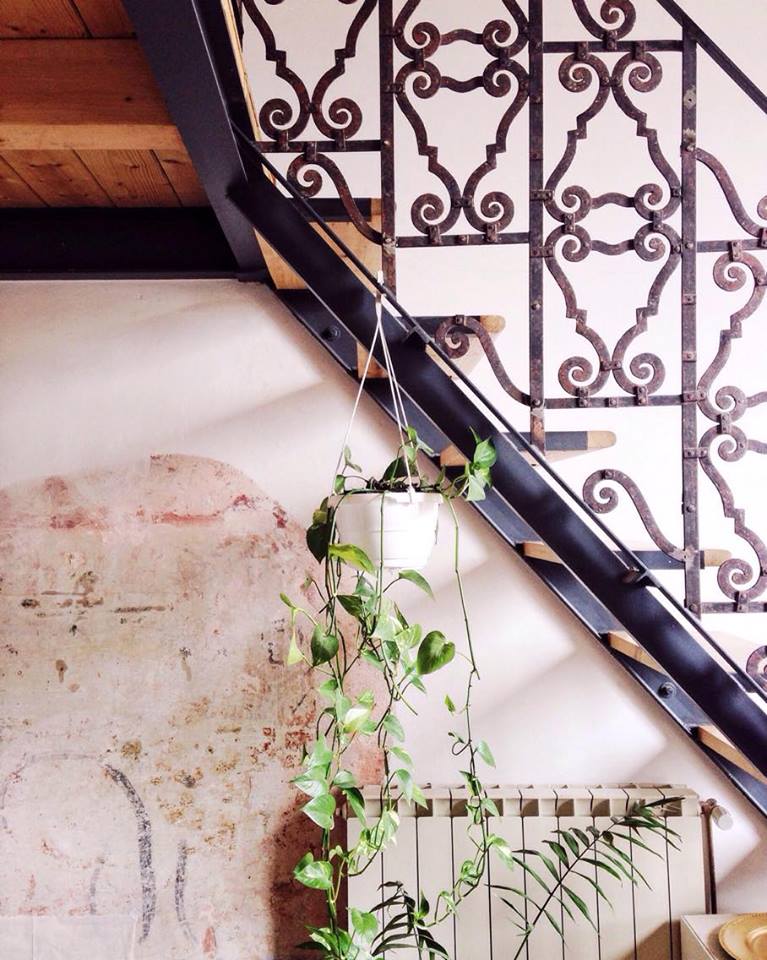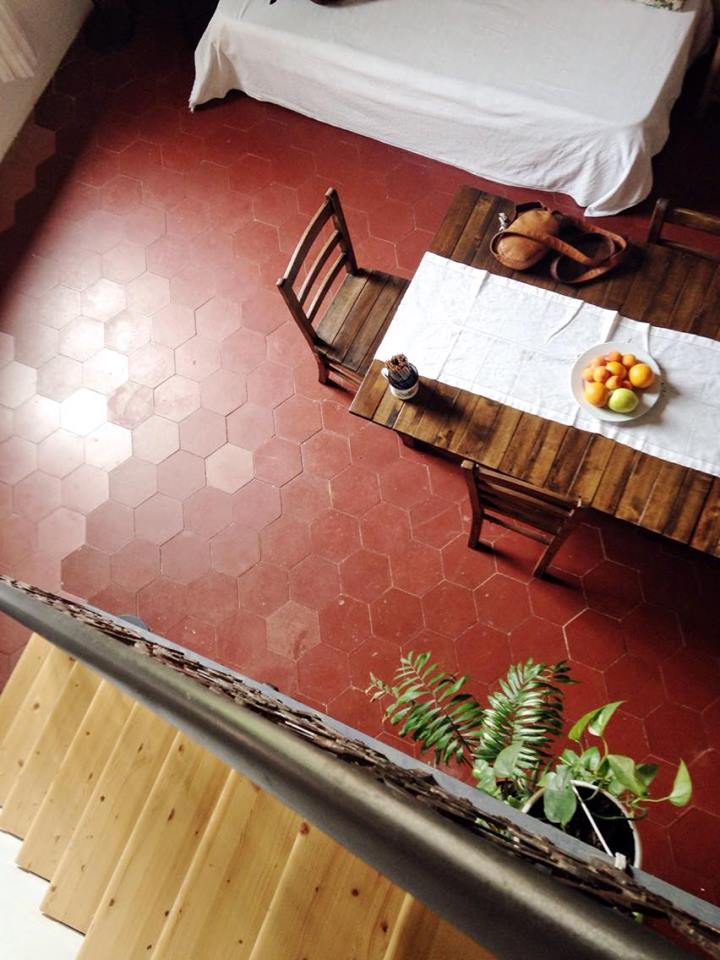 After a quick and delicious lunch at Ciro & Sons right off the train station, we head to our apartment we booked through Airbnb (click here to learn more about Airbnb and receive an offer!). It was adorable. Our host was the sweetest Italian woman who guided us to our bright and cheery little apartment with a huge window that overlooked a quaint residential scene.
Uffizi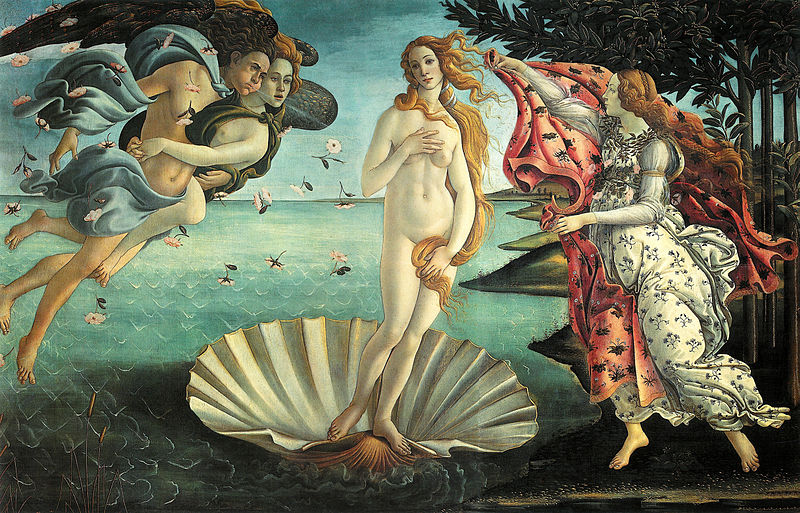 We had a reservation for the Uffizi museum at 3pm. We stayed about three hours. It's a Renaissance art heaven. It did not disappoint. My favorite exhibit was the Botticelli room. After hours of church art (beautiful, but repetitive subject matter), it was nice to see some Roman goddesses! I'll post a more comprehensive museum post next week!
Dinner
We stopped for aperitivo, and I had a Spritz before dinner. Then it was grub time! Let me tell you! Gluten-free eating was a huge hit in Florence. I had eggplant parm with a rosemary gluten-free loaf of bread this evening. Delish. Then we walked home.
Day 2:
Duomo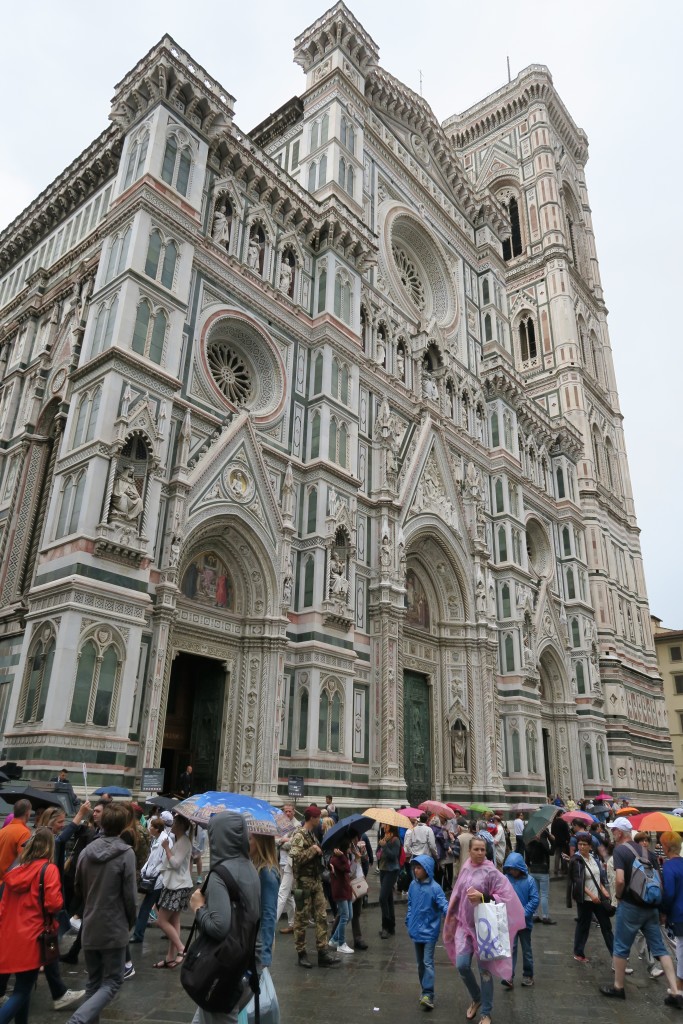 I could write so much about the Duomo that I will dedicate an entire post to it in the next couple weeks! St. Peter's was the most beautiful interior I have seen, but the exterior winner is the Duomo. We purchased a combo pass for 15 euros that let us climb to the top of the cupola (almost 500 narrow steps), visit the crypts underneath, enter the baptistry, and see the museum. We spent about 3 1/2 hours with this whole experience.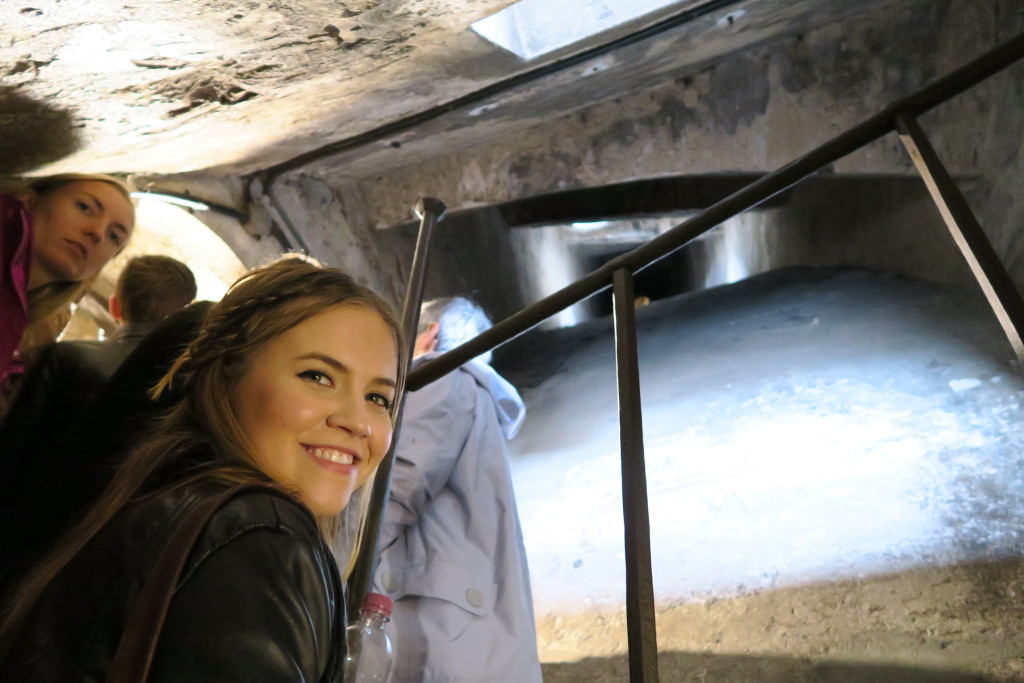 It absolutely poured while we were waiting outside for the climb to the top. I made a reservation for 12:30, but we still had to wait about 15 minutes. Of course, that's when the sky opened up!
Lunch
We stopped for lunch right next to the Duomo at a restaurant that had great gluten-free reviews. It was a little pricier due to its touristy location, but well worth it!
Galleria dell' Accademia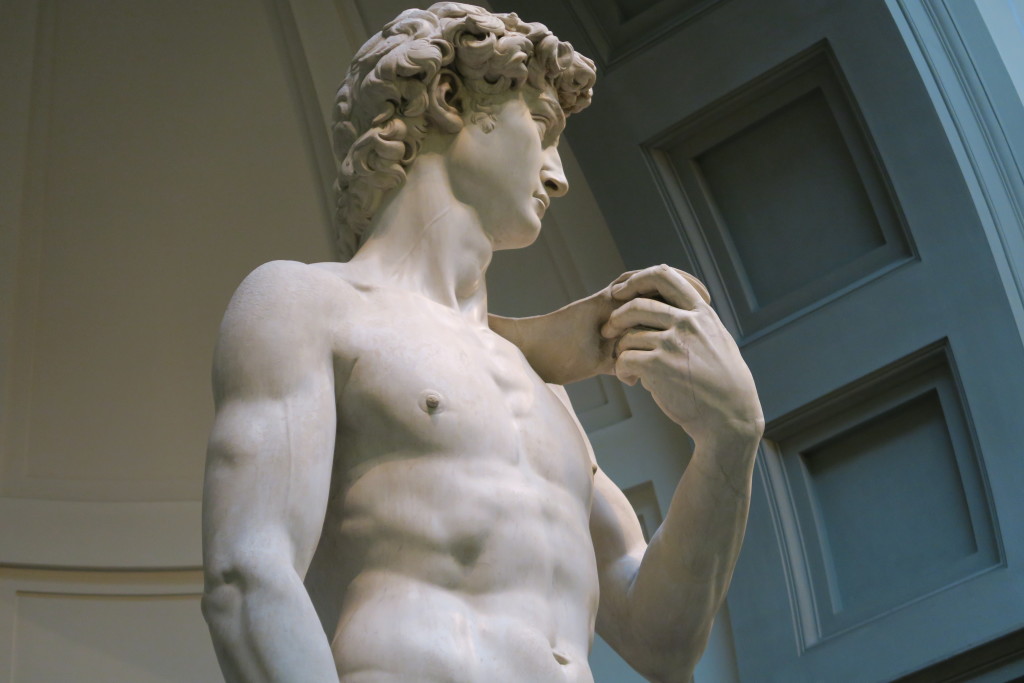 We had an appointment for the Accademia to see Michelangelo's David at 4:30. I'll write about it more in my Florence museums post, but just know that David is absolutely worth going to Florence for. Normally, I'm not super impressed by the famous pieces of art. But David is one handsome man.
Dinner
Dinner on our second day was at a tiny little local restaurant off the beaten path. It was cozy, quiet (other than the loud Italian voices which I loved), and delicious.
Day 3:

Arno River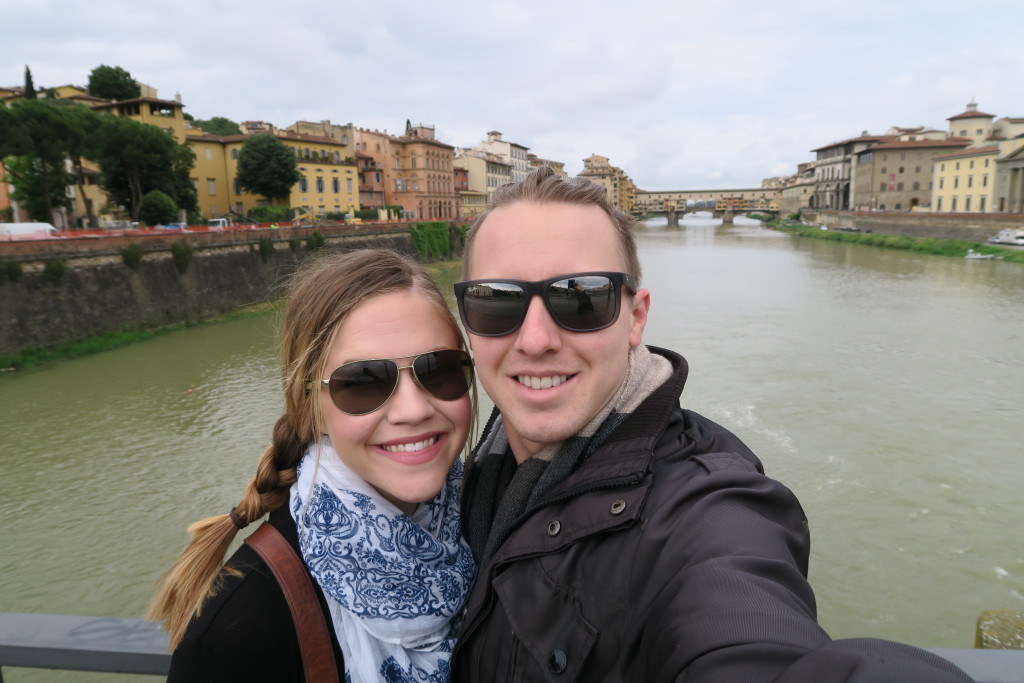 On our last morning, we stopped by a gluten-free bakery so I could get a croissant. Then we walked down to the river and found a cafe for a cappuccino.
Ponte Vecchio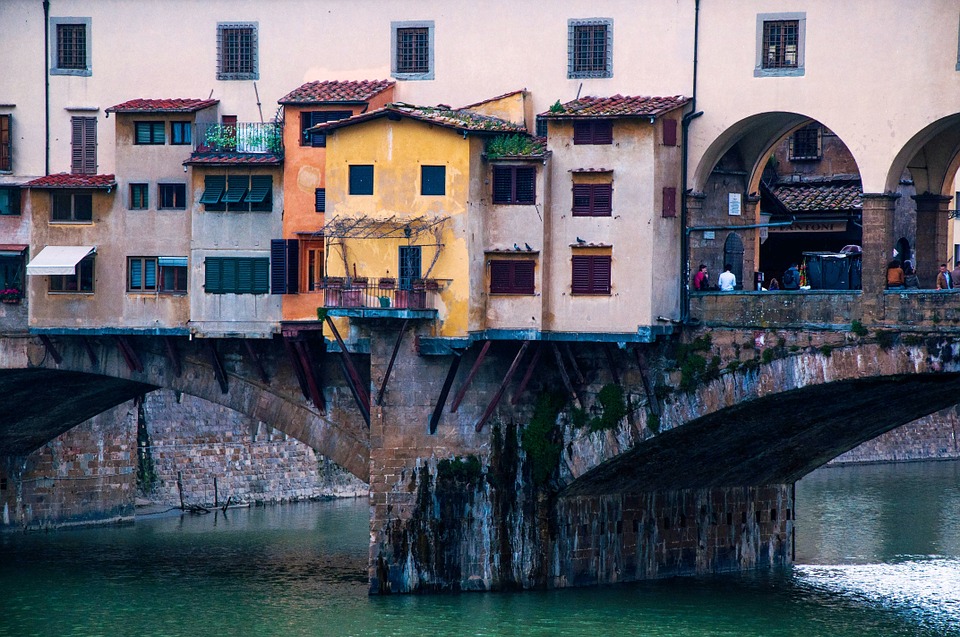 Ponte Vecchio is a famous bridge in Florence that is filled with little jewelry shops. I really enjoyed window shopping here!
Leather Market
Since Florence is known for its leather products, we avoided the overpriced shops and went straight to the market. Kyle bought me an adorable lattice-patterned wallet. I was in heaven looking at all the little trinkets, purses, and jackets.
Wandering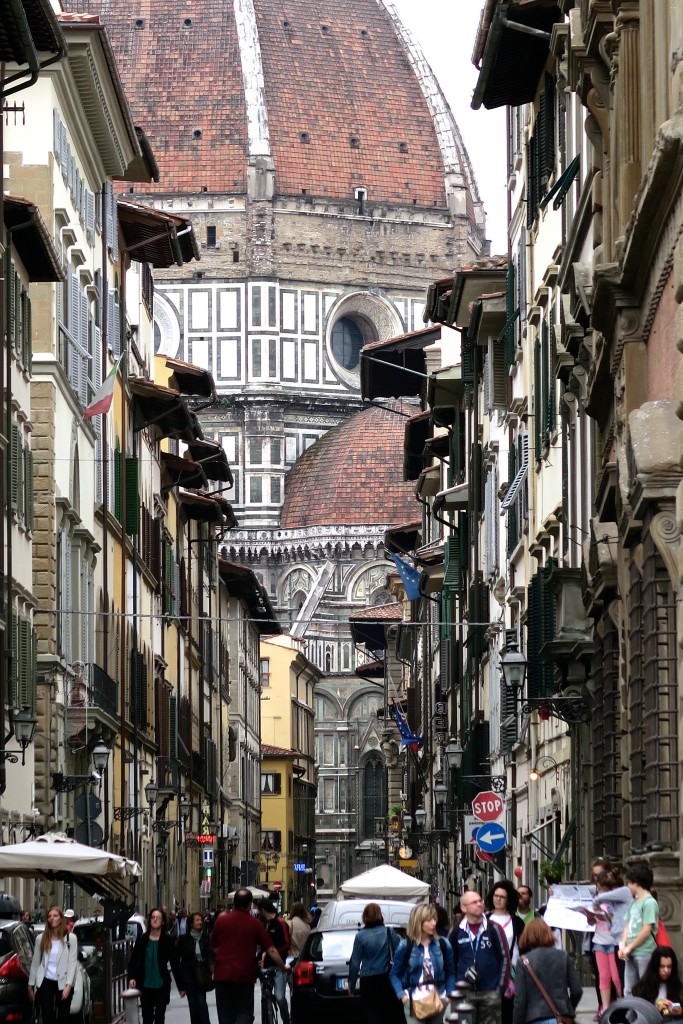 The rest of day 3 was spent wandering around the streets of Florence. We ended up at a local park at one point to rest our feet. We found a great lunch spot where I had prawns and Kyle and ravioli with truffle sauce. I may or may not have had another gluten-free pastry!
Train back to Rome
Our train back to Rome was peaceful. I read more of The Bell Jar. We realized over half way through that the train was expected to arrive at one of the main Rome stations about 20 minutes late, which made us miss our transfer train to our neighborhood. It ended up being no problem. The customer service lady was super kind and helpful and got us on a train that was only 15 minutes later!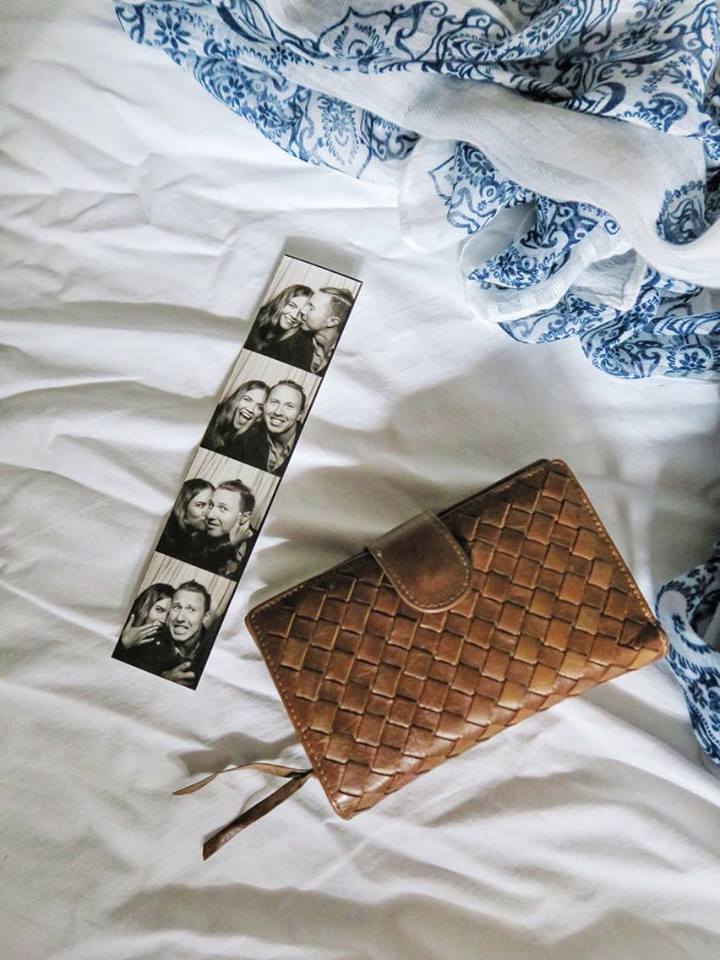 My three Florence treasures. Thank you, baby, for the wallet and scarf. xo
We were absolutely exhausted. Our feet were killing us. But we loved our time in Florence! Have you been to Florence? Going soon? Let me know in the comments!